Just my rides and my dad's as wellwell. I'm the mopar guy. Dad's the Oldsmobile and Mercury fellow.
About this Mopar:
70 Super Bee Tribute. Buckets, A/C, Rally Dash w Tic Toc Tach,Floor Shift, Ram Air, 440/727. Wilwood power disc brakes up front,11" drum rear.
Not Quite ready to place motor. Want to have brakes and front end trouble free first. Hopefully by the end of summer.
I've taken great lengths to turn this Coronet 500 into the badass Bee we see in front of us. One small patch in the floorpan and an even smaller one in the trunk is all the steel in the bottom that isnt original. As well as replacing some (very little) metal in the quarters. This car is very much the same body as it was when it was born in Oct of 69.This is the 1st of hopefully many 66-70 b-bodies that I collect.
I thinking about calling him "Buzz Lightyear" although this is a beautiful ride, it seems more a masculine kind of beauty.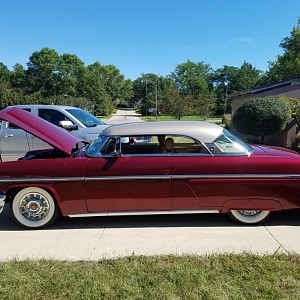 RUBY my dad's 54 Mercury Monterey
Chopped/Dropped CLEAN! Frame/Steering/suspension/motor/trans/rear-end are from an early 2000s Ford Crown Vic cop car 4.6L auto. Has balls and drives like a Lincoln. Interior is custom w leather and gorgeous erythromycin clean. Seats actually come from an early 2000s Chrysler. Power everything. Shaved door handles. The colors aren't mercury but rather early 2000s Cadillac. Very nice lead sled. My dad's pride and joy.
Almost makes up for him selling his 69 Super Bee 383 4 sp. When I was a kid
67 Cutlass Supreme convertible
Numbers matching 330/auto. This car has only 21k original miles and is barely broke in. It has never seen been dinged and all metal is pristine. However it cannot be a true survivor because the previous owner for some reason tried to repaint the car. Aside from some orange peel she's a beauty. Inside is very clean and as original as the body. If she were a 442 she would be appreciated a little more but this is truly a throwback to the summer of love!