I am selling my 1966 Pontiac Tempest Restomod. The car is located in Avon NY 14414. The asking price is $69,995.
EBay Link:
1966 Pontiac Tempest Custom | eBay
Walk Around Video Link:
Here are the build details:
1966 Pontiac Tempest Custom
Fuel Injected - Resto Mod/Pro-Touring Build
Cameo Ivory White
Medium Blue Bench Seat Interior
488 Stroked Pontiac Engine
Built Turbo 400 Transmission
Power Steering & Four Wheel Power Disc Brakes
Protec-o-Plate and owner's manual
Only 10 Miles on Fresh Build!
Paint & Body:
• Repainted in original Cameo Ivory
• Very straight bodywork and decent panel alignment
• I am very picky and have judged at car shows
o The body work is a solid 9 out of 10
o The paint is 9.5 out of 10
Engine:
• Fresh build with proper dyno break in - dyno sheets and video included!
o 544 horsepower – 616 ft. lbs. of torque
o 10.5:1 Compression – 93 Octane
• Original Pontiac 400 block
• Scat - 488 stroker crank, pistons and big block Chevy rods
• Butler\Comp Cams – billet hydraulic roller custom grind – 236/242 .521/.540 114 LSA
• Lunati roller lifters
• Comp Cams Ultra Gold roller rocker arms 1:65 ratio
• Edelbrock Performer RPM – Ram Air IV - round port cylinder heads
• Edelbrock Torker II Intake
• Holley 800 cfm Sniper Electronic Fuel Injection
• All ARP Bolts
• K&N air filter
• Canton road racing oil pan
• High volume oil pump
• High flow water pump
Transmission:
• Fresh built by J.W. Performance Transmissions
• BPO Turbo 400 long tail shaft case
• Custom 12 inch 2,200 RPM converter
• Full roller bearing sprag
• High volume finned aluminum pan
• Brand new SFI flex plate
• ARP Bolts
Rear End:
• Moser Engineering – Ford 9 Inch MusclePak
• 3:00 gear ratio
• Disc brakes
• Powder coating, fill and drain options
Wheels & Tires
• 17 Inch American Racing Torq Trust Wheels
• Brand new Bridgestone Potenza performance tires
o Fronts are 235/45/17
o Rears are 245/45/17
• Wheels were completely machine polished before new tires were mounted
Suspension & Steering:
• UMI Stage II Kit
o Adjustable tubular upper control arms
o Tubular lower control arms
o Adjustable front sway bar
o Tubular rear control arms
o Tubular frame braces
o Solid rear sway bar
o 1 inch drop coil springs
o Hotchkiss 1.5 Street Performance Series shocks
• Brand new Borgeson quick ratio steering box
Interior:
• Brand new Dakota Digital Dashboard with GPS speedometer
o Brand new ACC carpet set
o Matching ACC Custom Pontiac emblem floor mats
• The following components will come with the car to complete the interior restoration:
o New headliner and matching sun visors
o New dome light
o New rear view mirror
o New arm rests
o New door panels (on order will be delivered or shipped to buyer)
o New front and rear seat covers (on order will be delivered or shipped to buyer)
o New front bench seat foam
o New rear seat cushion material
Stainless & Chrome Trim:
• Front bumper is an original that has been re-chromed and shines beautifully
• Rear bumper is aftermarket and shines very nicely
• Rear window trim is new and in excellent condition
• Front windshield trim is new and in excellent condition
• Original front grill in excellent original condition (nicest I have ever seen)
• Headlight bezels are new and in excellent condition
• New arrow head hood emblem
• Side mirror is new and in excellent condition
• New drip rail moldings included with the car but have not been installed
• The post window trim is original and the aluminum shows some oxidation
• Tempest Custom side molding trim is in original condition – nice but some imperfections
• The fender and quarter panel emblems are brand new reproductions
• The rear "Pontiac" emblem is a brand new original NOS unit
Glass:
• Windshield is new
• Rear window is new
• Side glass is original and in great shape – windows roll up and down very smoothly
Under Carriage:
• The frame and under carriage have been painted chassis black
o Not concours finished but more detailed than a driver quality vehicle
• Complete Flowmaster American Thunder dual exhaust system
• Floorboards and frame are solid and rust free
• Brand new custom built drive shaft and yoke
• Powder coated tubular transmission cross member
• Brand new powder coated Holley Sniper gas tank with integrated fuel pump
• Brand new stainless parking brake cables
• Braided stainless transmission lines
• New fuel lines with proper heat shielding
Engine Compartment:
• Every component was replaced, rebuilt or detailed at the time of restoration
• Overall it presents with a show quality appearance
• Brand new Cold Case aluminum radiator with twin electric fans
• Brand new master cylinder and power brake booster
• Newer Interstate battery
• Hedman Hedders with custom ceramic coating by Jet Hot
• Brand new chrome 1 wire alternator
• Brand new high torque mini starter
• New pullies
• Shielded MSD Spark Plug Wires wrapped in insulation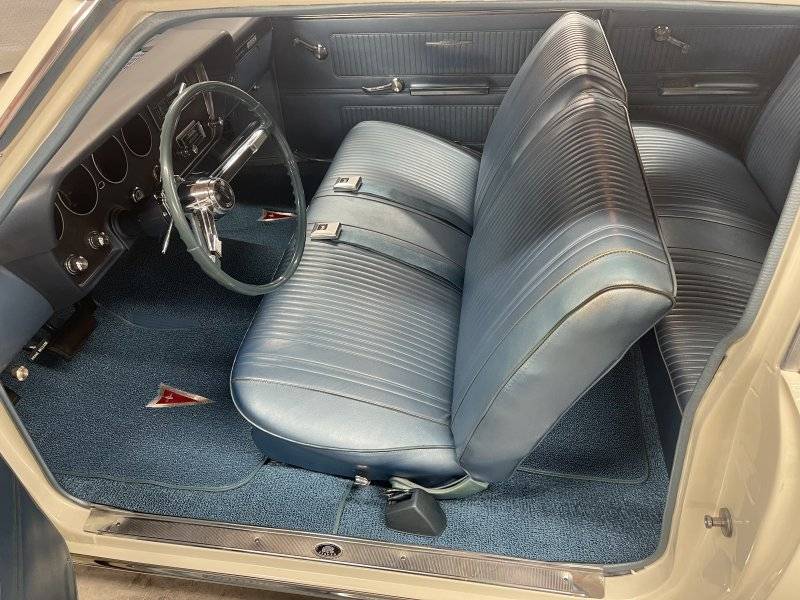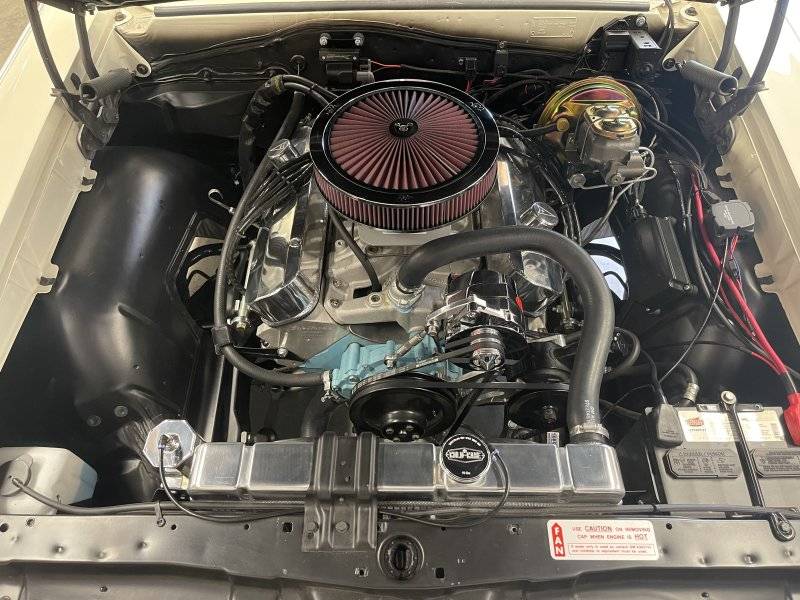 Last edited: