Ed on the Ridge
FBBO Gold Member
Local time

11:39 PM
Joined

May 14, 2011
Messages

13,840
Reaction score

23,111
Location
Some of you may recall the epic battle I went through a year+ ago to rebuild the entire drum brake setup on Fred, the 1968 GTX.
All "Made in the USA" parts were sourced and
everything
was replaced, front and rear with new as I found new old stock stuff that fit that criteria,
except:
1. Drums - I have quite the collection of 11" drums front and rear, all machined and within tolerance, so I mixed and matched to get the best ones on the car.
2. The left front hub was also replaced due to hogged out lug holes. That was an experience in itself, only possibly solved by a fellow FBBO member who had one that he donated!
3. The original front hard metal lines remain in place after flushing; all other hard and soft lines front and rear are replaced and the original splitter block also remains.
4. The master cylinder was new on the car when I bought it (aftermarket, probably reman)
and remains on it now.
Other than specifically mentioned,
everything
is new on the system.
My thread on all the project:
https://www.forbbodiesonly.com/mopa...l-now-for-something-totally-different.218808/
Highlights included "converting" the fronts to self-adjusters from 1969 as well...
Now for the continuation of the project because - you guessed it - things still aren't
right. In fact, they've proven to be doggedly, stubbornly (and dangerously) NOT right.
The left front has returned to the one that locks while the others don't; the pedal
refuses to stay "up" after the typical "back it up/hit the brakes" exercises.
I've had the fronts apart a half dozen times a side since then and nothing,
nothing,
is out of place; the system has been bled to death as well. Real good, even pressure
at each wheel when bleeding, too. No evidence of clogs or restrictions...
Typical long-winded description of all the above leads me to now - I basically
have a couple questions:
1. Is there any functional difference between the typical aftermarket replacement
master cylinders out there now, as pictured: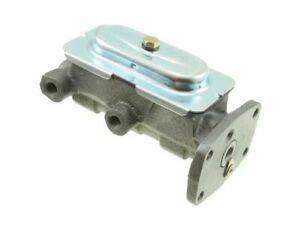 ...and the "discontinued" original ones, as shown in the FSM:
When it comes to standard, non-power 4 wheel drum brakes, is there any difference
mechanically between these two master cylinders?
2. I'm going to replace the hard lines in the front system, since they're the last original parts of the brakes left.
Sorry to disappoint but no, I won't get into making my own. Reasons...
Two-part question:
a. Lots of sources of repro lines out there. Any of them better than the others?
b. Are the metal lines on drum cars the same as those on same-year front disc cars?
(Yes, in the back of my mind, I'm wanting to hedge my bet here in case I wind up pulling
the trigger on a disc swap in the end.)

Thanks in advance!