FBBO Gold Member
FBBO Gold Member
Local time

4:47 PM
Joined

Feb 20, 2012
Messages

48,632
Reaction score

145,257
Location
Find of the Day: This Rare 1967 Plymouth Belvedere II has a 426 Street Hemi​
Tara Hurlin
05/21/2023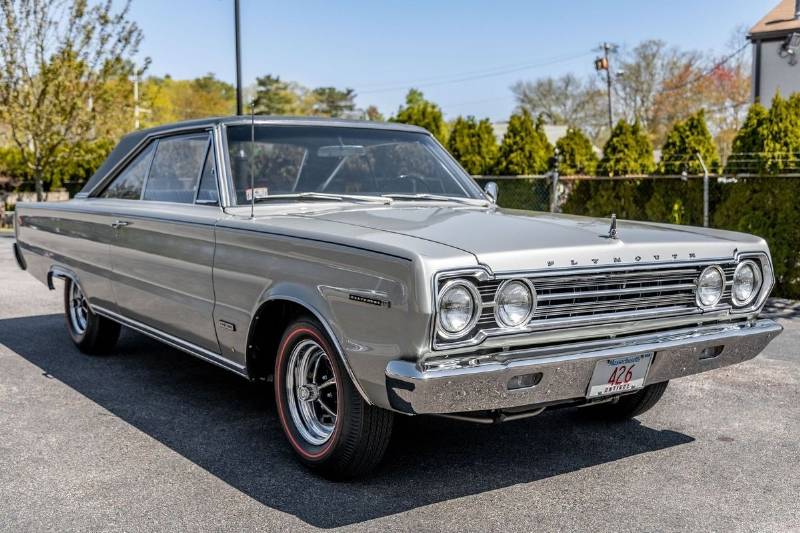 Comment: 1
In This Article
Technically, the Plymouth Belvedere II wasn't readily available with a factory 426 Street Hemi, but records show that eight examples were special ordered with the impressive engine for 1967. According to the seller, this is one of those cars, and its especially unique for its added "A" and "B" Silver Special packages, which is where it gets its eye-catching Special Silver paint, Antique Silver interior and the silver vinyl roof. Documented numbers reveal that this car is a true and distinctive one-of-one Mopar muscle car.
The 426 Hemi is arguably the most legendary big-block V8 of the muscle car era. A rare and powerful competitor on the street and the race track, it dominated several racing series during the 1960s and early- '70s, including NASCAR and the NHRA. For the 1967 Plymouth Belvedere model year, a "J' appearing as the fifth character on the VIN indicates a car originally built with the 426-cid. Hemi V8 from the factory. The seller, who has owned the car for 13 years and drove it sparingly to car shows, says this Belvedere II's engine appears to be a correct 426 replacement, with a block that is believed to be dated for 1969. The rebuilt engine has just 500 miles and is matched with a 727 TorqueFlite three-speed automatic transmission.
According to the Hemmings Auction listing, the Mopar is well documented and includes research evidence, the original broadcast sheet, a Certi-card and more. A signed letter from a DaimlerChrysler Corporation Archives Manager reads, "According to the serial number that you have provided, RH23J71185769, your vehicle is a 1967 Plymouth Belvedere II equipped with a 426 cubic inch Hemi engine. Officially the 426 Hemi was not an available option in the Belvedere II that year. I believe that your vehicle was a special order by a Chrysler employee or dealer."
More pictures in link .............