Local time

8:10 PM
Joined

Dec 26, 2019
Messages

36
Reaction score

28
Location
Intro
Howdy Mopar enthusiasts! I am sharing my journey swapping a 5.7 Hemi and A727 into to my 1969 Satellite. I bought the car 18 months ago after the car had been sitting for 10+ years. My Satellite came from the factory with a 318/904, column shift and 741 case 8 ¾ rear end. It's an AC car with the 26" radiator core support, but I removed all the AC components. The frame is in good shape and the body panels and floor pan have the usual rust issues that were reasonably addressed 15 years ago along with a serviceable paint job. Long ago, the right front passenger corner was wrecked, and someone replaced the front clip with a 69 Coronet front end. I happen to like the Coronet front end better than the Satellite, but it confuses a lot of folks at the car meets. The car has an awful bumble bee stripe that is wrong for the car – and it's not even correct for a Super Bee. The paint is in great shape, so I am not going to paint over it. I'm going to do some kind of wrap to cover it. Anyway, I felt all these factors made it a great candidate for a hemi swap.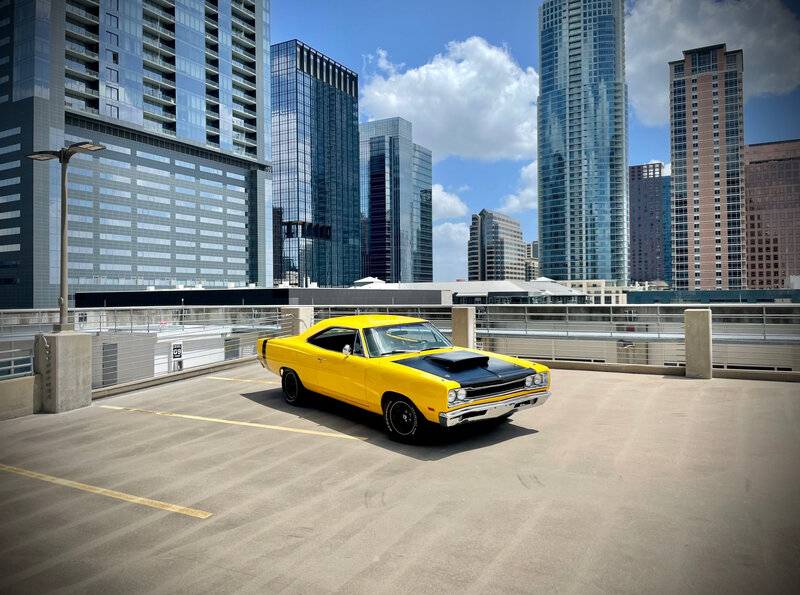 Pre-Build Research
It was challenging trying to decide on which combination of engine, transmission, controller and wiring harness to use. It was also a challenge to decide on swapping used parts versus buying everything new. Ultimately, I decided to use ALL new parts, so I could minimize the potential for mismatched parts and limit the "startup" troubleshooting that so many folks have. Rather than source a used engine, I chose the Mopar Performance 5.7 Crate Engine with the factory controller and wiring. I had to replace my 904 transmission anyway, so I chose a new A727 TCI transmission.
Early on, I decided to use the Holley B Body Gen 3 Hemi Swap components because they make just about everything. Everything they provided fits great. The engine and transmission fit without conflict of any kind and the headers and exhaust fit exactly as you would hope without fabrication or denting.
The other extremely valuable resource was Bouchillon Performance Engineering. Bouchillon makes those hard-to-find components which let the 50 year old parts talk to the new parts. Randy Bouchillon probably knows more about swapping Gen 3's than anybody – including Holley and he will gladly provide advice if you call him. He makes some crucial products for my build and the quality is outstanding.
The project took 5 months because I was building this project during Covid. I waited for months for so many parts. Could have been done in 4 weeks if all the parts were available.
Here are some of the resources I used:
https://www.holley.com/products/eng...74_mopar_b-body_gen_iii_hemi_swap_components/
https://www.diyhemi.com/
https://bouchillonperformance.com/
https://board.moparts.org/ubbthread...7339/let-the-hemi-swap-begin.html#Post1577339
https://www.motortrend.com/how-to/will-gen-iii-hemi-fit-project-measured/
https://www.allpar.com/threads/modern-mopar-chrysler-dodge-5-7-hemi-magnum-v8-engines.230003/
https://www.dodgegarage.com/news/ar...hemi-engine-quick-reference-guide-part-i.html
About this Build List
I've included every part component used in the build, with the exception of misc. fasteners, tech screws, nuts and bolts. Where possible, I have identified part numbers and the general reason the part was needed. All labor, backyard engineering and fabrication was performed by David Gibson of Gibson Engine Development in ATX.
Parts List and Cost (Not including Labor)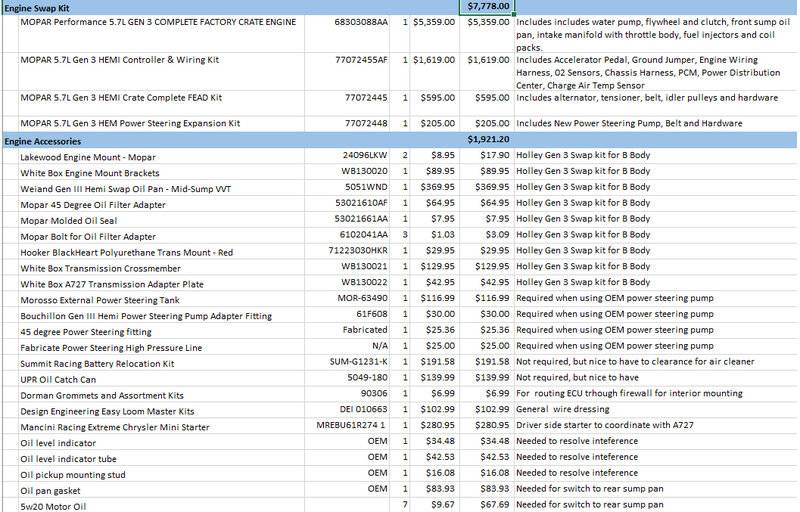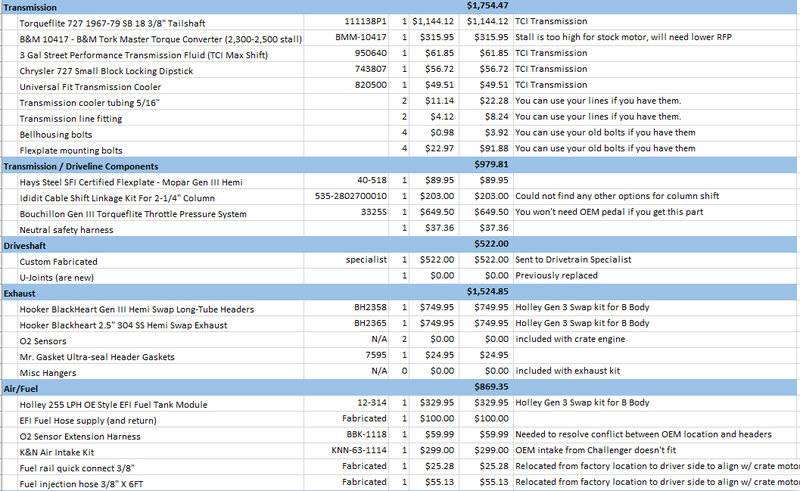 Engine Swap Notes
I considered using a used 5.7 from a salvage yard, but we don't have many reputable sources in ATX. At a minimum, I wanted a newly salvaged engine rather than something that was sitting on a shelf for years.
I also looked at Cleveland Performance and MARS LS Swap because they put together a really good swap package. They set it up so you can see it run before they send it to you. The low mile swap kits they sell are pretty close in price to the Mopar Performance crate engine so I didn't want to gamble on a used motor.
The Mopar Performance crate engine kit is available from many vendors, so shop around to get the best price. I got mine from the salesman "Frog" at moparproshop.com. Only bummer was $450 to drop ship to the house.
Once installed the engine fired right up and all components worked as expected. We located the ECM under the dash rather than in the engine bay. I have a new Dakota Digital Gauge Cluster and the ECM communicates great with the cluster. You do need the Dakota Digital BIM-01-2 OBD-II/CAN module in order for the gauge to receive the tachometer and the oil pressure signal. I'm told this has something to do with the Mopar's desire to discourage aftermarket tuning.
The crate engine comes with oil, but you have to swap the oil pan so if you can't capture the oil, you will need 7 more quarts.
I adapted engine covers from the 6.4 and I deleted the AC and got a blanking plate from Vintage Air to clean up the engine bay.

Transmission/Driveline Components
Because I was swapping from a 904 to a 727, my swap was a little more complicated. I had to get a new column shifter cable and I could only find one vendor (ididit) who made one. You will also need the something for kickdown. Bouchillon solved the problem perfectly with a well-engineered throttle pressure system assembly, but it is pricey.
Happy Swapping!
Last edited: