Posting this here as I think its most likely a build more for the racer crowd - even though this will be primarily a street car (but I go overboard so it makes sense)
Truth be told - I have been out of the game for a bit, and when I left I knew little to nothing about big hydraulic roller cams. I had large solid rollers.
I am NOT opposed to straight solid roller. But this is a street car that will see 2500 miles a summer. I am NOT opposed to running valves regularly, and I have good Harland Sharp rocker set up.
Motor is getting a full make over to included increased compression from 8.5 - 11.5 (ish)
505 inch based on 440 block
11.5:1 compression (obviously don't have final numbers yet since its still in pieces)
Indy-1 heads flow 375 @ .500 and 390 @600 lift
Indy dual plane intake
3.73 gears in rear
I will need a new carb or fuel injection system, and a converter as well - but all of that will be based off the finished long block.
My current cam is this - but feel its a bit small for the cylinder heads and increased compression
Cam specs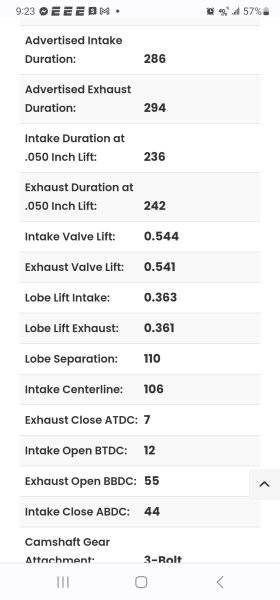 Last edited: