Local time

10:38 PM
Joined

Jan 2, 2011
Messages

1,040
Reaction score

305
Location
I bought my car with temp. gauge fluctuations, so first thing I did was replace gauge with a new Auto meter gauge
ATM-3432
. Still happened from time to time. I have a 180 Mr. Gasket thermostat and a Moper Performance aluminum housing and WP.
I don't have a temperature gun yet but plan to get one. I also have the factory dash gauge hooked up but he sits at the first line after warmup and is consistent.
I now found I had room for another 1/2 gallon of 50/50 mix Prestone/water thinking that would help but no still happens. I changed to a 160 Mr.Gasket stat. and it seems to move the gauge pretty regularly from 170-210 sweep.
The car doesn't boil-over and under the hood isn't hot like when you have a hot running car. Also has a 16lb. restoration type cap and this was with two different aluminum radiators also.
Has anyone else ever had weird gauge movement with a similar set-up? I feel that I'm dealing with a steam pocket/air pocket in that corner of the housing.
If I just had the factory gauge I would never know this was happening.
My next plan is to put the two heater hose fittings in the housing and just loop a 5/8" hose to see if my air pocket would possibly move or am I wasting my time
Thanks Ron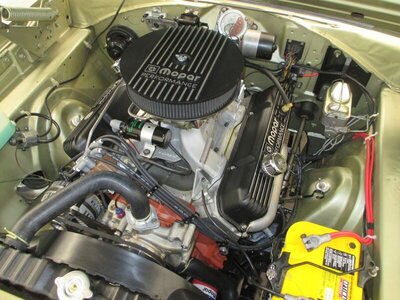 Last edited: