Local time

1:35 PM
Joined

Nov 14, 2013
Messages

286
Reaction score

442
Location
I bought this '69 Charger R/T at the end of last August and since then have been able to put together the entire history of the car and begin to get it back on the road. I figured you guys might like to see this. It is the only time I've been able to get the complete story of a car like this and I found it all very interesting, so I thought I'd share. If you're on facebook you may have seen me post about some of this in a couple of the groups there but if not, here goes....
The car was bought new just a stone's throw from where I live now and as it turns out, it has been within 20 miles of that now defunct dealership damn near every day of every year ever since.
Unfortunately, the original owner has passed away but I was able to use the title that I was given by the 2nd owner to track down the original owner's family. According to his wife, her husband worked at the Buick dealership that used to be across the street from the Dodge dealer. When he saw the new '69 Charger he went over and ordered his. He wanted the 440 and a bench seat but the R/T came with buckets so he ordered it with the "buddy seat" so it has no console and a column shift automatic. He wanted it that way so his wife could sit next to him. He also had to have A/C because... well.... Texas.... not to mention this was the everyday car for him, his wife, and little girl.
The original owners kept all the paperwork all these years including the original dealer invoice with the options he had requested and they had the original window sticker. They had even saved receipts from payments and registration through the years.
This is the invoice. I have blocked the name and address of the original owner simply out of respect. I don't want to put their names out there but everyone involved said it was OK to share the pictures.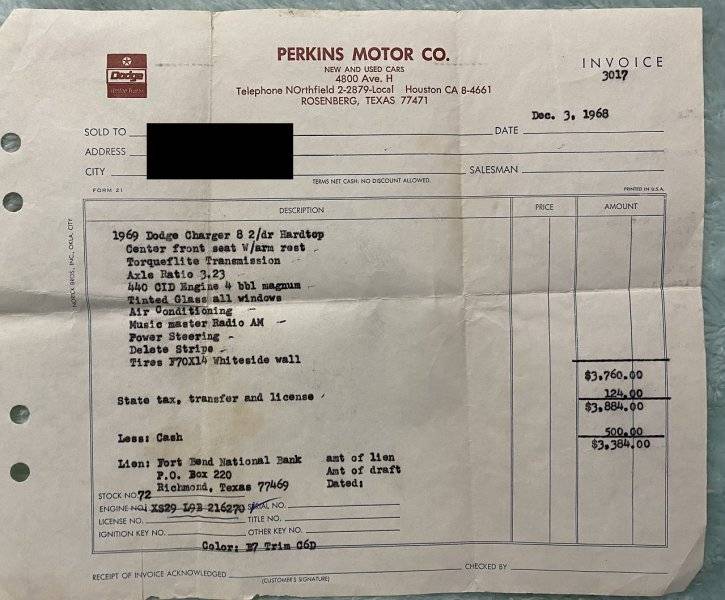 And this is the original window sticker, mostly intact but some areas are tough to read. Still lots of good info there even if you have to decipher it a bit.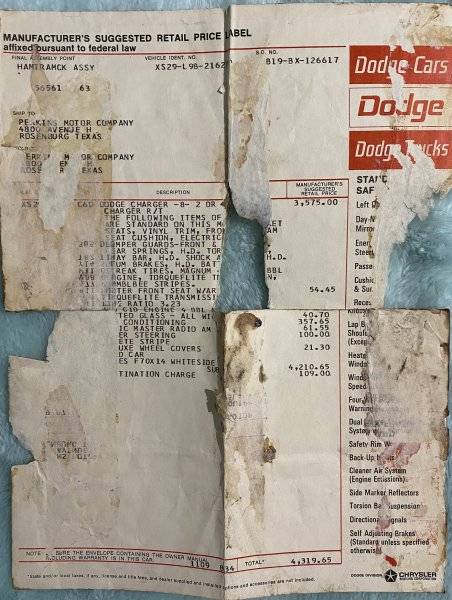 So when the car came in on the delivery truck to the Dodge dealer, the owner saw it arrive, clocked out of the Buick dealer and went over and waited as they unloaded his new car. He immediately left the Dodge dealer with it and went back to the Buick dealer to perform all the dealer stuff to it himself. His widow (who has become a dear friend) has been so excited to hear that the car is still around and loved that she provided photos of her family and the car when it was still new. These are all labeled May of 69 as you can see.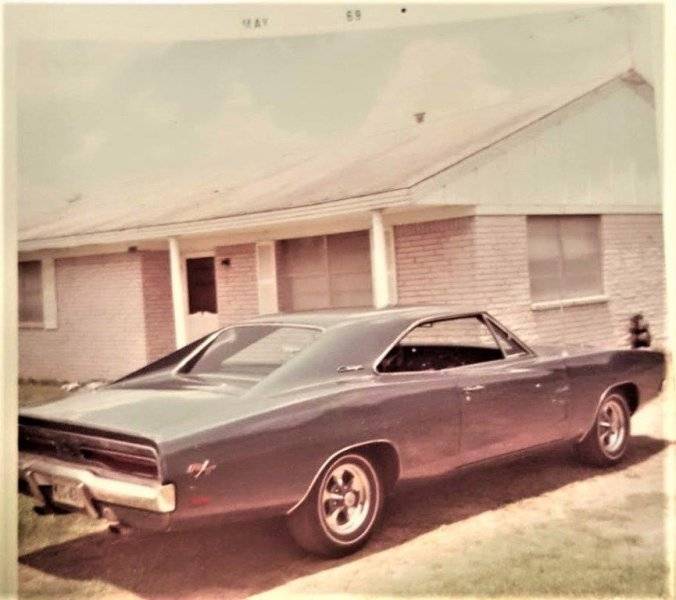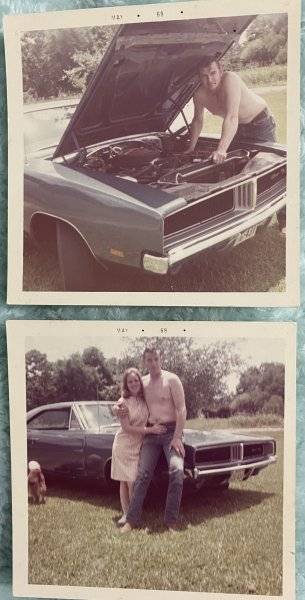 And then there's this one of their cute daughter posing next to it. She will become an integral part of the cars history as the story continues.
The wife told me that this car was her husband's pride and joy. He had planned to keep the car forever because he just knew that these cars were the epitome of a muscle car. Unfortunately, to them the car seemed cursed. She said he picked her up in it the first day and took her and their daughter into town and by a series of department stores that had glass window walls out front so they could look at their reflection as they drove by. They then drove it to her parent's home to show her Dad. As they pulled up, they saw her Dad replacing a vent on the roof of his house. They parked the car and the Dad stumbled, dropped the vent and it bounced off the roof of the house and banged right into the center of the hood. The hood had to be repaired and repainted. That's some bad luck. She said the bad luck continued as it seemed like someone was always bumping into the car and they kept repairing to keep it looking pristine. Once a motorcycle rider ran a red light and smacked into the passenger fender which threw the rider off the bike and over the hood, breaking his leg. The motorcyclist was ticketed and carried to the hospital and again they repaired the car.
Over the next decade he had become protective of the car and since the luck with other drivers had been so bad he used his tow truck to commute back and forth to the mechanic shop he had opened in town. By this time his daughter was a teenager and had her license, but they hadn't gotten her her own car. He told his wife to never let the daughter drive the Charger, but she was a good girl and when she bugged the mom to let her use the car to go to her boyfriend's house the mom decided it would be ok to do so if she promised to be very careful with it and go straight there, then straight home. She never made it to the boyfriend's house. She got to town, waited at a red light, when it went green, she took off carefully, but an illegal immigrant ran the red light and smacked right into the driver's side. The door was crushed and the front half of that 1/4 panel took a nasty hit as well.
The man was devastated. She said he was so sick over it that he put it off to the side of his shop and covered it up so he wouldn't have to see it. He believed it to be too badly damaged to be repaired properly with what was available at the time and his skill set as far as body work and paint.
So there it sat for a year or so....
Until it was spotted by a high school kid who had a high school buddy named Cliff that was looking to replace his 1st car (a 69 Charger RT/SE) that had been completely totaled out when they hit a tree. So these kids go over to the shop and inquire about the car that had been spotted. Cliff asked if the car was for sale and the original owner decided he'd go ahead and let it go since he couldn't fix it himself. He sold the car to Cliff for $100 in 1979 (I believe was the year).
Cliff was convinced he knew a body shop that could use what was left of his RT/SE car to fix this RT. He had this car towed down to the body shop and they looked at it. They told him if his parts were good they could repair and repaint the car for $1500. They used the driver's door and half of the driver's 1/4 panel. Cliff's RT/SE had hit the tree on the passenger side so the driver side parts were good enough. He was still in high school and had to pay it out over time but eventually he paid them in full and got this car back. He said it wasn't perfect but most people couldn't tell.
Cliff says he felt like he was king of the street in that car with the big R/T badges on the 1/4 panels. He used to cruise Westheimer in Houston which was the biggest cruise spot and was a miles long party on Friday and Saturday nights. He'd park at a certain convenience store with his buddies and drink beer while waiting on someone to race. And race he did. He blew the original 3.23 rear end up (I still have the pieces) and swapped in a 3.91 suregrip. Here's some pics Cliff took back in his heyday. You can clearly see they did a pretty decent job on that driver's side.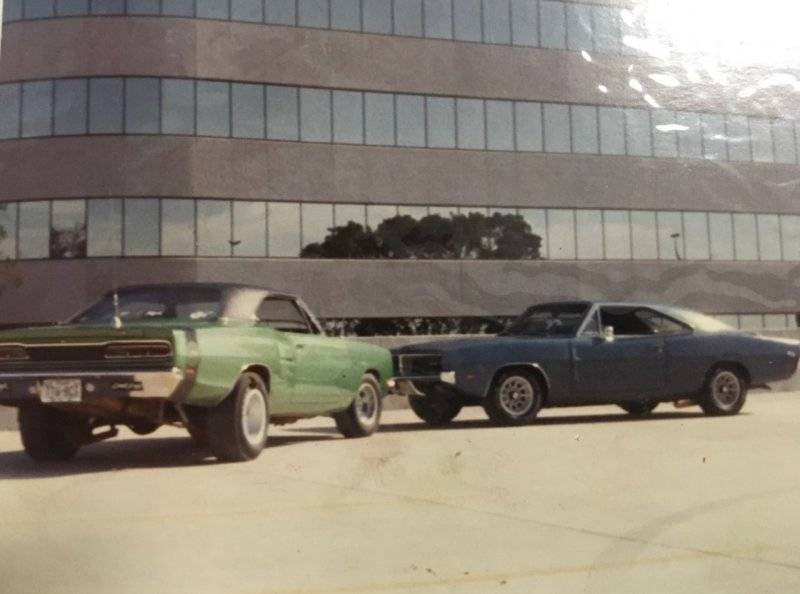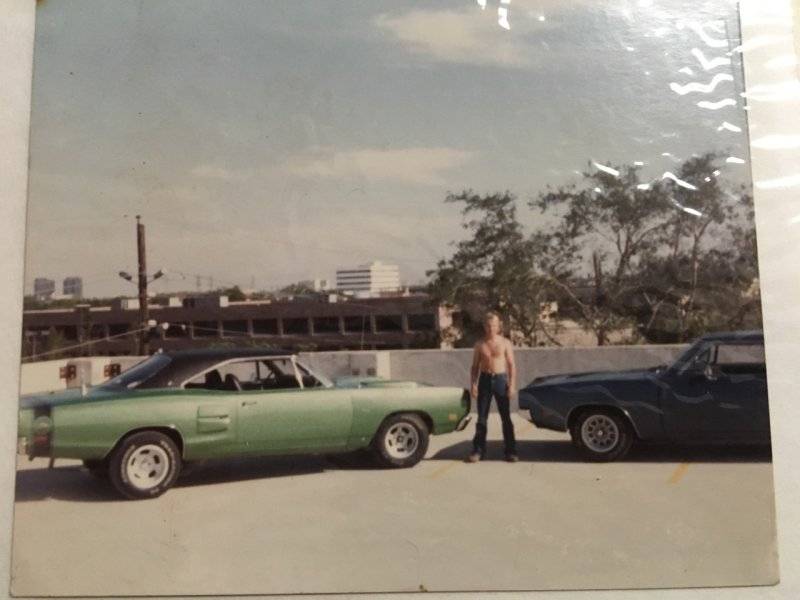 Cliff drove the car for a couple years and raced it on the weekends pretty successfully until the Fox body Mustangs started to take over and Westheimer cruising was shut down. So Cliff decided it was time to do something. He parked it and spent the next few years going through the engine and upgrading it to what he figured would be about as bad *** of a 440 as possible. It was an expensive project and he had a wife and kid by now so slowly the Charger hit the back burner. It sat until the late 80's in his mom's garage until he had finished the engine and bought a new upgraded 727. He took it out only a few times and maybe put 20 miles on the car after he had that engine built. He said it was wild. When he describes the way it was set up, the car was a bit much and he didn't have the money to do anymore to it to get it right. It got away from him when he was showing off to the local Hi-Lo autoparts guys, he looped it 360 in the middle of a busy Houston street but managed to not hit anything. He just parked it, figuring he could get back on it little by little as his kids got older. And he was able to do some more upgrades to it like SSBC front brakes and better wheels/tires, plus an upgraded front sway bar to name a few.
But they years passed and unfortunately his mom passed so he lost the garage. He kept it in storage for a while and he kept it in a friend's garage for some time but eventually he didn't really have a place to keep it other than outside at a mutual friend's house. It was under a shed the first time I saw it. As I walked up to look at it a big *** snake shot out of it and I took off, admiring it only from a distance. I met Cliff about 7-8 years ago and started making offers to buy the car shortly after. He laughed in my face. It was like trying to buy his son. Not happening.
We started working together at our friend's shop and I made offers to this man that were pretty damn good offers. Each time I offered more and more. Each time he shot me down like I was an idiot for even asking. Every time I'd go out there I'd look at the car, eventually getting the courage to brave the snakes and really look at it close
He laughs because once I made the biggest cash offer yet with my wife standing there and he shot me down but I shot back that I'd pay him the cash and my wife would even flash her boobs at him, LOL! She agreed and that shocked him, he turned red and his jaw fell open. Still turned it down but the man knew I was serious.
He had watched me build my car over the years and appreciated my work and sacrifice for it. It had won a bunch of awards, been on an award and some T-shirts, and even had been in Chrysler Power mag as a centerfold.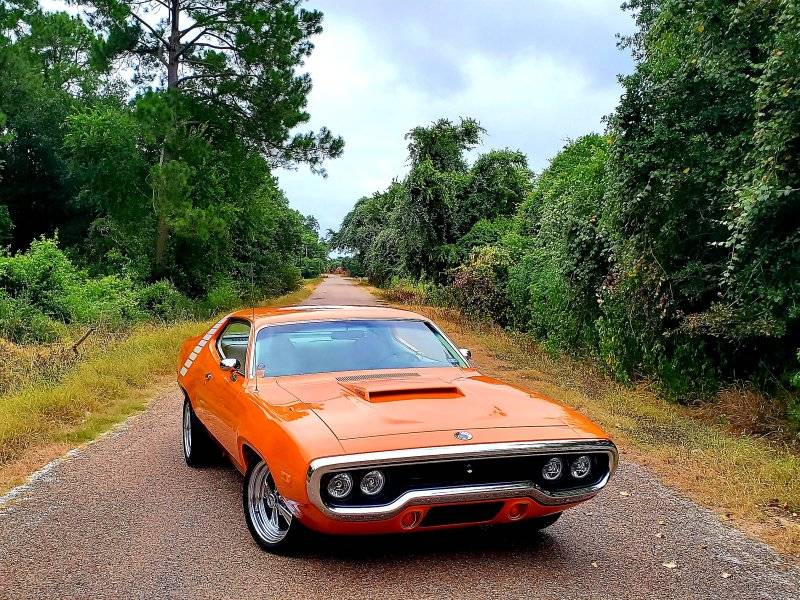 So I changed my tune and started offering to help him build his car. I stopped offering cash and continued offering help but it never happened. He didn't take me up on it and the car just sat for more years. He just couldn't come up with the money and past that he didn't have a place to keep it other than at our friend's place.
Eventually one day I was tipped off that he had been talking about buying a new truck as his commuter car Camry was taking a piss and he was sick of working on it. I went straight up there to him and this time I took 10 grand cash. I shot the **** with him for a while and he said something about that shitty Camry so I whipped out the 10 grand and said "I'll give every bit of this to you plus however much more is needed tomorrow if you will sell me that Charger". He was shocked. Stared at the cash and said no almost as quick as ever. So I said "well the offer stands" and shook his hand and left. He called me that night pissed off. He said "You really F'ed me up today showing me that money. All I could think about was that money and I broke and lost so much **** the rest of the day because it was all I could think about!". Then Cliff did what I thought he never would. He said his price. This time I was shocked. Not for the reason YOU think but because this man named a price that was less than my biggest offer. In fact it was less than I had ever offered. I offered more but he declined. I paid him his cash the next day and that weekend we went out there and I got the car.
It was bittersweet. I had finally, after many years working to get this particular car and after wanting one my whole life, I got it... But I also had to see my friend give up on his dream. I swore I'd make him proud and that if I ever sold it, I'd make sure him or his kids would get another chunk of cash.
(At this point I can't add more pics to the post so I will follow up with more pictures and progress pics of the work I've been doing)