Local time

5:22 PM
Joined

Jun 15, 2011
Messages

691
Reaction score

607
Location
Well we are past our winter hiatis and ready for racing here in Aus . Not only that but our new style national series has started and i aim to run a couple events . Now in saying that we are a big country with not a lot of tracks . My home track is Sydney Dragway , next track is 11hrs tow away . So its Sunset Strip in 3 weeks , 11 hrs , then October its Benaraby , 16 hrs , both of these are 1/8 mile.
I have had the intake rewelded across the top of ports as it was thin and would blow the gasket .
2 weekends ago i raced at the Sydney track championship round for T&T .Q1 Tried a small burnout on the 1 meeting old Goodyear radials spun bad . Ok back to medium solid and all ok . We do qualify off reaction so 0.010 was good for #2 .
Car was quite good and i was happy with runs and tree . At least till the final where i fell asleep ..
Data was difficult to sort as i never got a full pass in elims and there was a strong cross/ head wind . So dials were guesstimate but know i was holding .
I feel car might be 1 jet rich but i didnt run afr and it was close to pb's on 1/8 numbers .
This was footbraking leaving @ 17/1800 .
So a runner up = a good testing result .
Oh yeah . DA was killer through late afternoon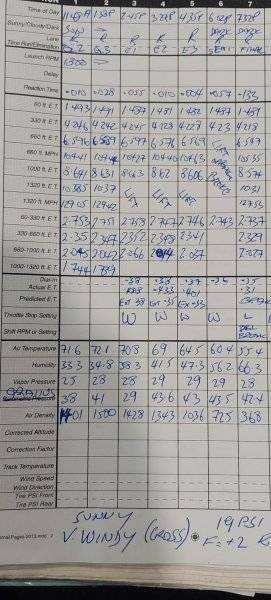 Tex