Local time

9:14 AM
Joined

Mar 14, 2009
Messages

1,353
Reaction score

1,303
Location
Can anyone give me any insight in what time frame that Chrysler transition from the small rivet to large rivet for the radiator caps? From my understanding, it was very early into the 70 model production run. With that said, has anyone documented a late 69 car with the large rivet cap or a 70 model car with the small rivet cap.
The reason that I am asking is that we have gotten the small rivet style cap back into stock and just wanting to label them properly. Secondly, on the large rivet style cap, I can source them with or without the SMCO stamped into the cap. Does anyone have an original cap that they can verify the time frame and what was stamped into the cap.
Attached is a picture of the small rivet cap, November 68 production.
Thanks for the help and insight.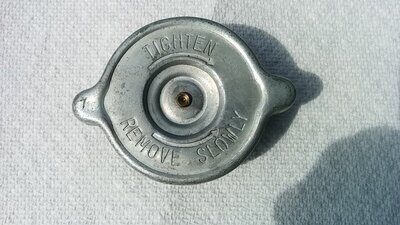 Last edited: