Local time

3:30 PM
Joined

Jun 9, 2021
Messages

135
Reaction score

84
Location
Problem:
when the engine warms up, I get starter chatter when I turn the ignition to start the car
67 Satellite, rebuilt 318, 727 trans, go easy on me, wires and electricity are not my strong suit
Here are the facts, let's see if I can explain things well enough, this is driving me crazy....
1. When cold it starts fine, always
2. Once warmed up, 15-20 mine drive I get the chatter, cool down period helps
3. When warm if I manually apply 12 volts from the battery directly to the starter relay at I, I get chatter
4. Neutral safety switch is ok, if not in part or neutral nothing happens
5. Battery cable, B, is new
6. Connector wire, S, to starter relay is new
7. Battery cable to starter is new
8. Ignition switch is new, not the keyset
9. Mini starter is new
10. Starter relay is new (2nd one)
11. Battery is good
12. Starter relay ground is good
13. Engine ground straps are good, I have three
14. Wire from B to the ammeter is good, I just replaced it
NOTE: When warm and I get chatter, if I jump the starter relay (S to B) with a screw driver is
works every time
, no chatter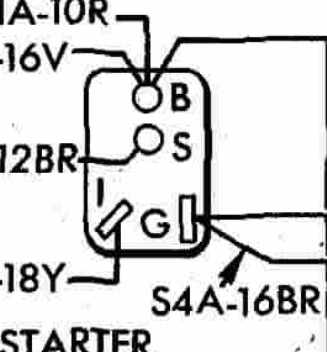 I'm lost at this point, I just don't know what to check...