Local time

4:35 PM
Joined

Dec 24, 2013
Messages

1,991
Reaction score

3,121
Location
The weekend was great, except for getting rained out both days. Friday night was a complete rain out, no racing. Saturday was good till about 5 PM, then rain shut it down for the night, no racing on Sunday. I am car 30.
The car;
73 Charger Rallye, 255/60-15 Cooper street tires all around, full body, full interior, full power with A/C.
323:1 sure grip, stock 4 speed with tired Mcleod clutch.
Fresh RB 505 440 source stroker kit, around 10.7:1 compression,
TF240 heads,
Comp roller cam 234/
[email protected]
.542/.539 lift 112 LSA,
Holley based 950 DP,
Eddy Performer RPM dual plane,
1 3/4" tubes old set of headers, header extensions with turn downs.
I got 4 runs in on Saturday. First run I did not get a time slip. The time slip shack was flooded from the rains, had to drive along the track return road to a guy standing down there. I did not know that. It was a terrible run anyway. I had the street tires on the car and spun first gear. Anything more than half pedal would spin the tires. So I went back to the pits and switched to the slicks, 10"x26" slicks.
Slip #1, this was the best run of the day. Ran a 12.89 @ 112.05 MPH. AND, I forgot to turn the A/C off during this run. Did a short 1st gear burn out, not my tires and wanted to be easy on the clutch. Let the clutch out just off idle then rolled on the gas. Minimal tire spin. After this run I went and put the Torco octane booster in the tank, and added a couple gallons of gas to it. Moved the FBO timing plate from the 12 slot to the 14 slot. Timing was at 18° base with 12° of mech advance for a total of 30°. Changing the FBO plate to the 14 slot should have moved the total to 32°.
Slip #2, It was 1:30 in the afternoon now and hotter. 13.099 @ 112.57. Lost a .10th but picked up .5 MPH. Is that from the additional 2° of timing or just an anomaly? So I got back in line to back it up.
Slip #3, 2 o'clock now, 13.373 @ 112.36.
DTD-2022-Time-slips-10032022-064443
]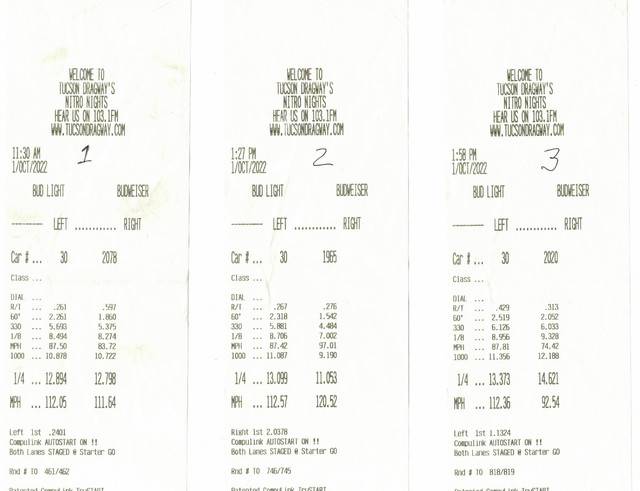 [/url]
Last edited: