Local time

11:18 AM
Joined

Dec 21, 2017
Messages

9,457
Reaction score

13,811
Location
I have a pair of Ansen 8 1/2x15 top eliminator wheels, that need some help. They are dead ringers for the original torque thrusts, with straight spokes. These are vintage mid seventies wheels i think.These are actually a test case, for a set of similar condition American Racing 200s. I have the center caps for the ansens, but they would definitely need to be re-plastic chrome plated. Probably gonna go with the flat aluminum plate look.
Options are:
1. Clean em up a little with a scrub brush and a cleaner dip, and call it good. Excellent for the aged gasser look.
2 Send them out to be beadblasted, and paint them, all over with a dark gray wheel paint.
3. Blast em, leave em whatever gray the centers end up (or clear coat) and try to duplicate the machined lip finish.
4. Blast em, paint the centers, and send the lips out to be polished.
Mind you, these old one piece ansens have the typical for the time 3 5/8 backspace, so they really only fit cars with full round open wheel wells, of which I really have none. But if you've got a radiused wheel well gasser, these would be perfect.
I'm willing to spend a bit, but not a couple hun/wheel, as an experiment before working on the (much more valuable) daisies.
I'm open to other ideas and suggestions. (I can get better pics without the pooches if it would help....)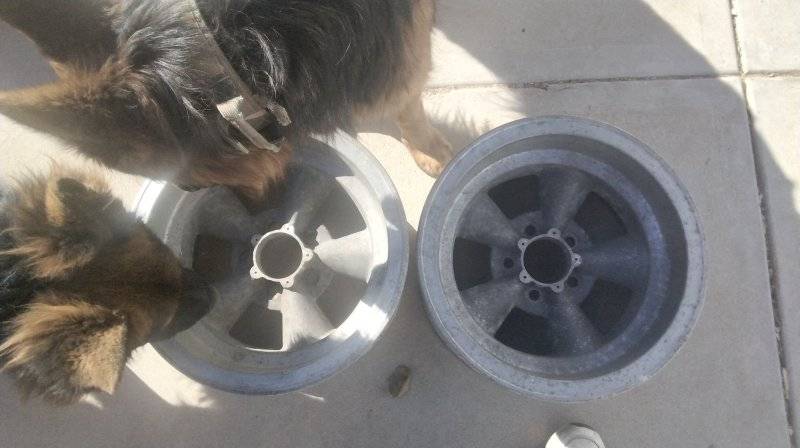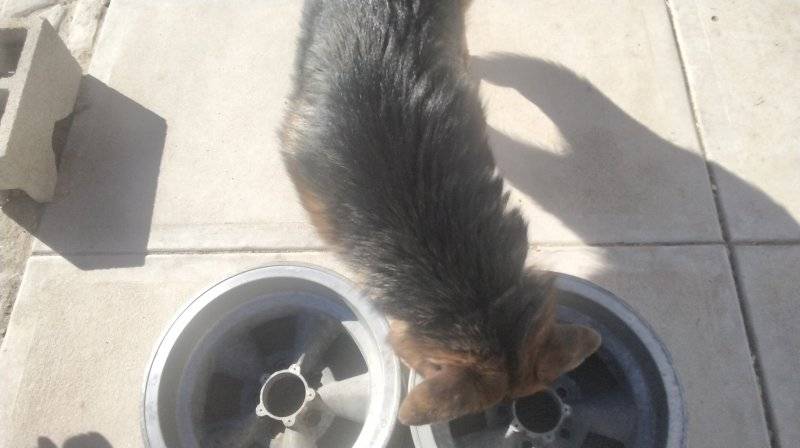 Last edited: