Just got back from the engine dyno today. Had a blast with the pros learning and wrenching.
Hopefully someone will find this info useful in trying to figure out their build plan.
Top Torque: 550 @ 4000 (HP 491)
Top HP: 499 @ 5100 (TQ 541)
Pic of full numbers below.
Initial Advance: 10
All in Advance: 32
92 pump gas (octane booster had 0 effect)
My initial thoughts are that the HP is on the low side for this build. We tried to find more but it just wasn't budging over the 498 number. However, at the end we realized that the dyno was running 1 3/4" headers while I will be running 2" Doug's. Based on some YouTube test videos the extra flow of the 2" should result in 15-20hp gains ¯\_(ツ)_/¯
We tried more and less advance and it kept wanting 32. We even tried a 1" carb spacer with minimal effect on the numbers.
Specs:
'77 block +.04
CR: 10.6
Forged crank, stock stroke.
Molnar H beam rods
Icon ic822 Pistons
Huges Solid Flat Tappet Cam (238/242 -109ºLS)
Hughes Flat Tappet EDM Lifters
Smith Bros Custom Pushrods 3/8"
Edelbrock Performer RPM Heads with a light smoothing of the ports and bowls. Measured at 79cc.
Hughes Springs
(452#@.700")
Comp retainers
Mancini Racing 1.5 adjustable roller rockers.
Edelbrock Performer RPM Intake
Holley 850 Double Pumper
Dyno Results:
Torque Run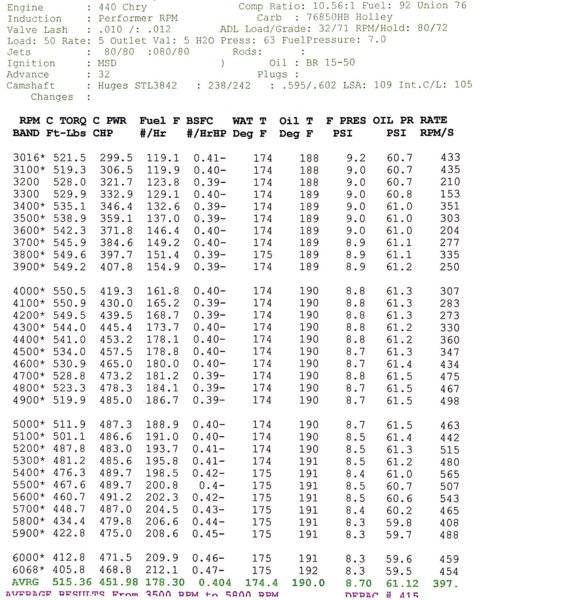 HP Run