Local time

11:07 AM
Joined

Dec 16, 2021
Messages

938
Reaction score

1,296
Location
Thought I would post this to get some opinions from the FBBO experts.
Had my front suspension rebuilt in May. The shop I used, who will remain nameless for now, came recommended in the hot rod/classic car circles.
I was going to do the job myself, but project commitments at work prevented me from having the time. I had purchased all new Moog parts & Hotchkis torsion bars, shocks etc, and the shop was cool with just doing the installation for labour.
After Mopar Madness, I came home, and kind of noticed a squeak/groan coming from my front end when pulling into the driveway. After parking I popped the hood and pushed down on the drivers side fender and what a squeak it was. Very loud. Pushed down on the passenger side, and no noise.
I knew it was coming from the LCA, so I put the car up on some ramps and got underneath, and this is what I found.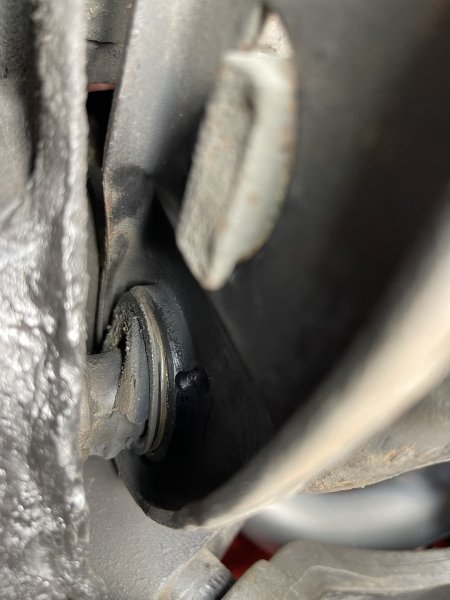 These bushings were installed in May, and they are destroyed.
The shop owner and I had a discussion about how to get the old outer sleeves out of the LCA's, and he assured me that "he has a tool for that" which made me a little skeptical. I gave him the lowdown on the washer/press method as well.
From what I can see from these photos is the outer sleeve of the old bushing was not removed, and he pressed the new one into the old sleeve, as my eyes can clearly see 2 sleeves here.
I didn't think that this would be possible to do, but I guess the rubber part would allow enough "give" to press it in, but then the rubber has nowhere to go, so it pukes out the front.
The passenger side one is no prettier.
The owner of the shop is very apologetic and doesn't understand "how this could have happened" because he is the one that did them, he can't even blame one of the shop guys.
I have an appointment upcoming for him to fix this and "make it right", but I was curious if what I am seeing here is right?
I had a couple local Mopar guys look at the pics and the first reaction was "you forgot to take the old outer sleeve out", but what say you FBBO guru's?
Last edited: