Life is full of turns. Build your car to handle.
FBBO Gold Member
Local time

1:25 AM
Joined

Apr 13, 2012
Messages

30,479
Reaction score

100,241
Location
I am having a hard time making sense of my brakes. I've tried multiple combinations and no matter what I do or try, I can't get them to skid on dry pavement.
I'm not a trained mechanic but I do have years of experience with these machines. One method that I use is the process of elimination. If the system has faults and you change enough parts, eventually you will find the problem. This is not easy on the wallet but sometimes it is the only course of action you have to work with.

This car stops well but it isn't awe inspiring. I never feel like I need to lift from the brake pedal because I am about to skid or stopping faster than I want. I have good parts in the car but something just isn't right.
Originally, it was a 4 wheel 10" drum system. You all know how those perform.
My first change was an A body power booster and 11" front discs. It stopped well and never had me feeling like I was scared to drive it fast.
Later, I upsized to the Cordoba 11.75" front rotors.
In 2006 I pulled the rear drums and installed the Dr Diff 11.7" rear disc brakes. From this point forward, the car got faster but the braking stayed the same.
Last year when I had the engine out, I decided to upgrade the brakes. I installed the Dr Diff 13" front kit and went down the rabbit hole in a failed Hydroboost swap. That resulted in a complete failure either due to a faulty HB unit or my impatience in the bleeding procedure. Regardless, the HB came back out and I tried a manual 1 1/8" master cylinder. TERRIBLE. Hard pedal with horrible stopping force. I tried a 15/16" MC. Better, but still not nearly good enough to be content with it.
I put the A body booster back in along with a vacuum pump and tank and that is where I am today.
It stops
good enough
but I'm still wondering why it won't skid. To me, it seems like if it can't skid, then the system isn't at it's potential.
I bought a brake caliper gauge....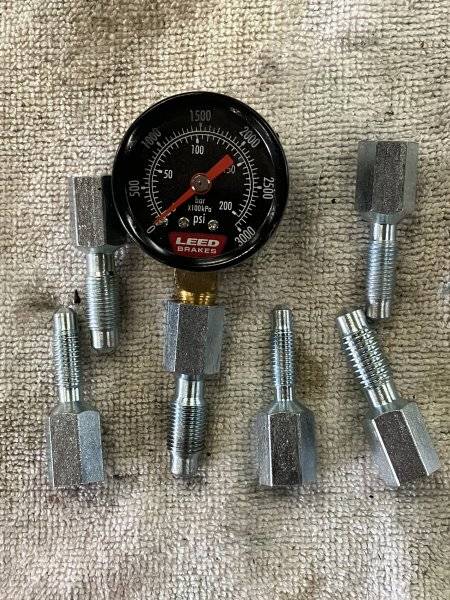 I only measured the rear and it registered 1200 psi.
I'm open to any and all suggestions except swapping drums back on the rear. There is something wrong with the system and I just am not seeing it.
Can you skid on dry pavement?