Formerly hsorman
FBBO Gold Member
Local time

4:56 PM
Joined

Aug 8, 2011
Messages

5,630
Reaction score

9,983
Location
I bought a brand new 2020 Ram and took delivery almost exactly a year ago. I ordered the truck to my specifications and I figured I would do a quick review in case anyone is interested in some of my experiences with the truck.
The Truck: A 2020 Ram Laramie Longhorn 4x4 Off Road 1500.
Options: Long bed 4 door and damn near everything except a sunroof and the split tailgate (didn't want them). Another key option is I got the towing package which allows a 11,200 pound tow rating, but that also gave the truck a 3.92 rear.
Here is the truck: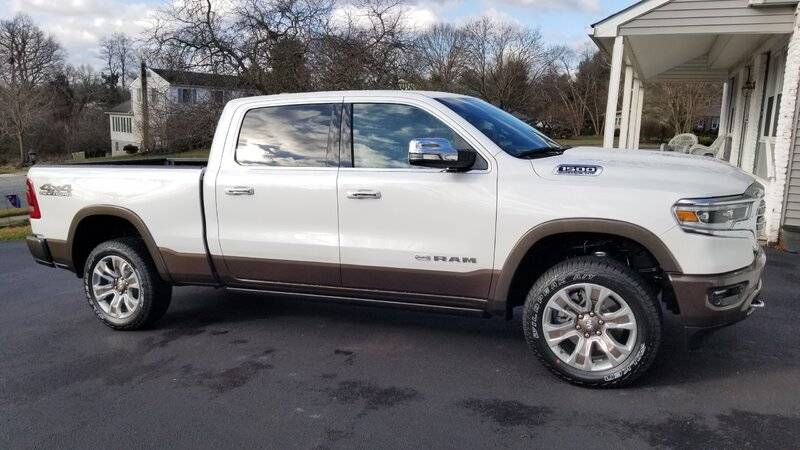 Now I won't review all the options and how they work - that is all available on-line and/or through a dealer. What I will do is cover a few things I like vs. don't like.
Like (in no particular order):
I call this truck my cowboy Cadillac; I love the interior comfort and design. This interior would give the nicest luxury car in the world a run for its money. Super comfortable for long hauls, the rear seats recline, have tons of room and there are lots of power ports, cupholders and comfort options. Even the rear seat passengers have heated and air conditioned seats. You don't travel much nicer than this.
The ride. It rides great. Yes, it is a truck but it still is very comfortable.
The ability to haul. Even though it rides nice, it was still able to handle over a yard of topsoil without any suspension issues or even squatting down. The air suspension just leveled it out with no issues or complaints.
The air suspension. Honestly, at first, I thought this was a gimmick. Great, so you can set the suspension into loading (bottomed out), aero (for highway) normal and high (for off road). I find I use the loading mode all the time. The whole truck squats down and makes it much easier to load and unload it, as well as hook up trailers. It also is nice when I pick up my aging parents so they don't have to step up as much.
Overall infotainment system. The huge screen is really nice for the integrated navigation and the way you can customize the screen. My only minor complaint is it can be hard to hit some of the controls when driving since bumps can make it hard to hit the right spot. I also have the top of the line stereo, and it is one of the best I have ever heard.
Birds eye view cameras. They provide a live view all around the truck as if there was a camera above you. Works great for tight spaces as well as for hooking up trailers.
Start stop feature. God, I never thought I would write that. I have absolutely HATED every start stop feature in any vehicle I have ever had; they are annoying. However, this Ram uses the modified alternator to start the truck as well as move it forward when you let off the brake. There is no lag and it actually works great. I don't turn it off, so that is an amazing compliment from me.
Under seat and floor boxes storage. There are lots of places to store stuff neatly.
The rear flat floor. With the rear seats up, there is tons of room to put stuff on the floor in the cab.
Unlock feature. I have a proximity key. Throw it on your pocket and forget it. Lay your hand on either front door handle and it unlocks. Nice.
Off road capability. I can't say I have compared it to other vehicles, but I have taken into muddy fields, down super steep and rutted trails, snow, etc. It has handled it all without complaint or issues. Being able to lock the rear (you get this feature with the 4x4 off road package) is nice and I believe helps its off road capability.
Don't Like (in no particular order):
The fuel economy. My 2017 Yukon XL had the 6.2 liter engine with 420 HP and 460 lb ft of torque. No BS, it got between 20 and 21 MPG on the highway at 75 MPH. If driving on roads with 55 speed limits, it got 23-24MPG. I have to say I loved that engine. My Ram has the mild hybrid 5.7 liter engine with less horsepower and torque AND a mild hybrid system to aid with fuel economy. I'm lucky to get 18 MPG with my truck. The rear might have something to do with this.
Rear bumper step. I ordered a rear step that folds out from the bumper. Yes, it works OK but it is only available on the drivers side and you need to remember to put it out and back in on your own. Without it, there is no step in the bumper (like GM has, and that works well), and there is essentially no room to put your foot on it with the tailgate down. Bottom line: You need to get the step, you'll regret it if you don't, but it is not great.
Tie down points. The bed has four low tie down points and an optional (which I have) bar with moveable tie down points. I think the GM beds have better designed tie down points. This is a minor gripe - overall I have had no issues.
Overall, I am VERY happy with this truck. My main complaint is the lower fuel economy, but I guess I didn't buy a truck expecting an econobox MPG. But I have to say the GM 6.2 engine was a slightly better engine than the Hemi (gasp!).
I'd buy it again, and hope for many more years of service out of it.
Hope this was helpful to some.
Hawk
Last edited: