Local time

8:59 AM
Joined

May 8, 2019
Messages

10
Reaction score

10
Location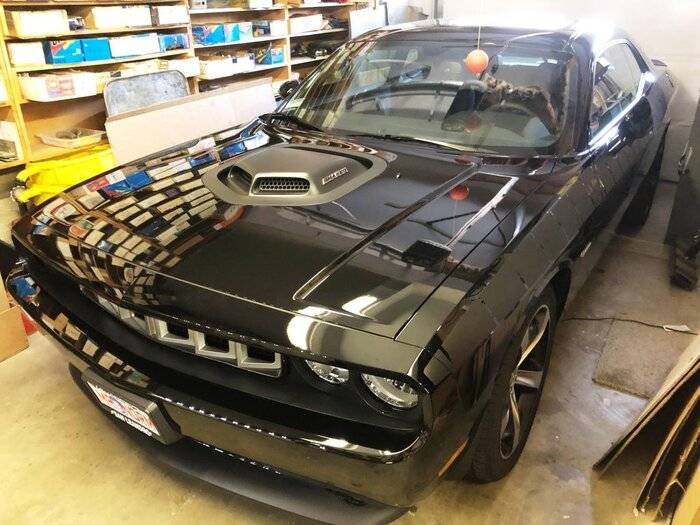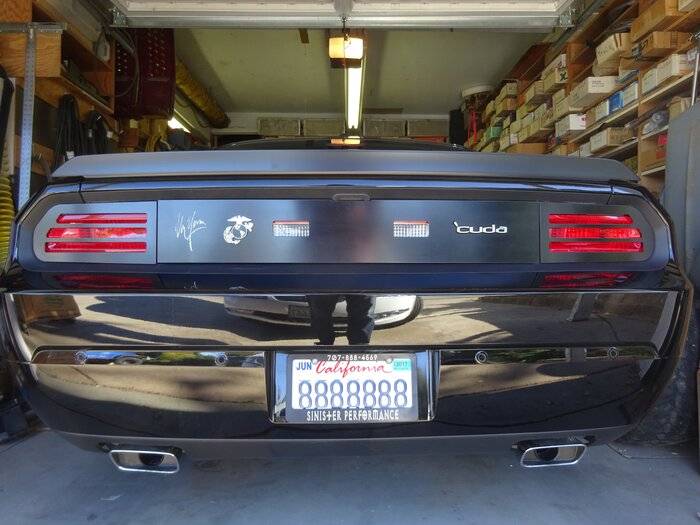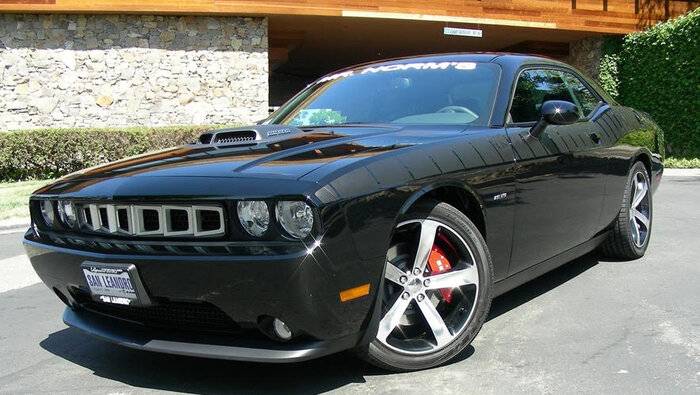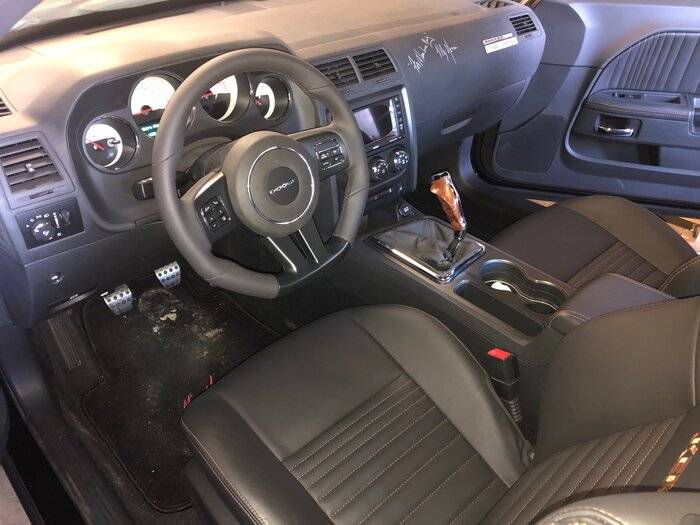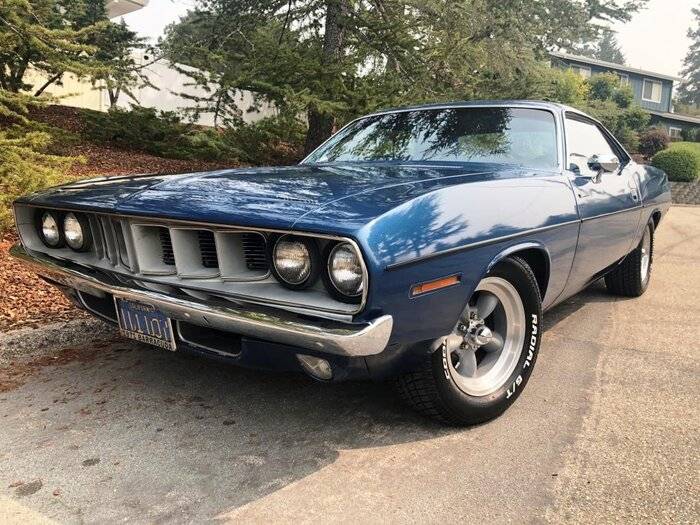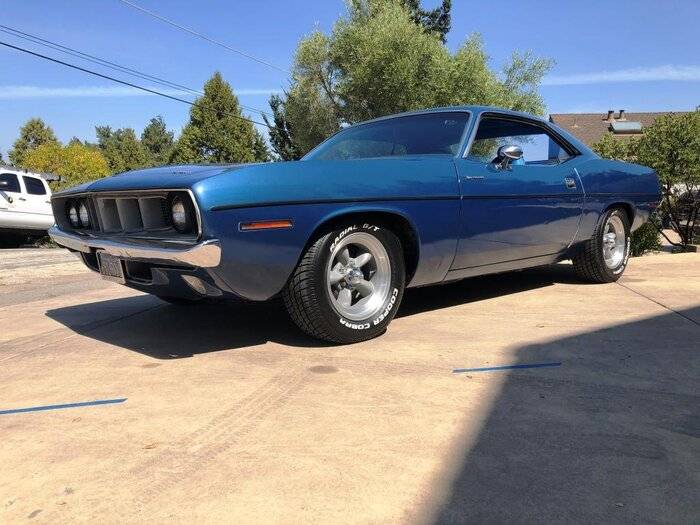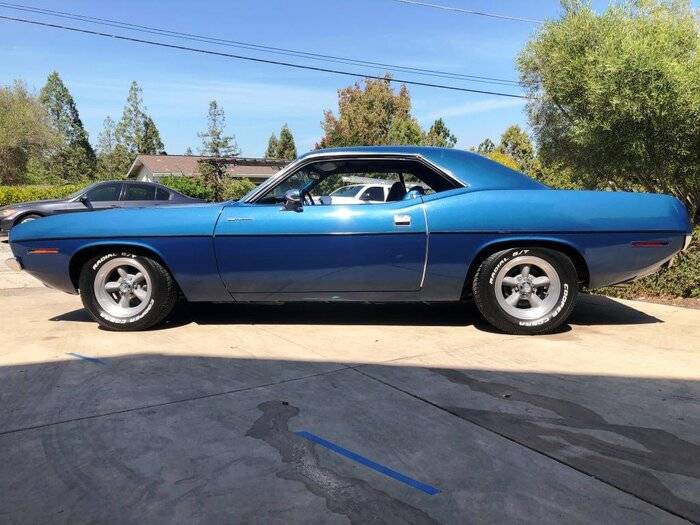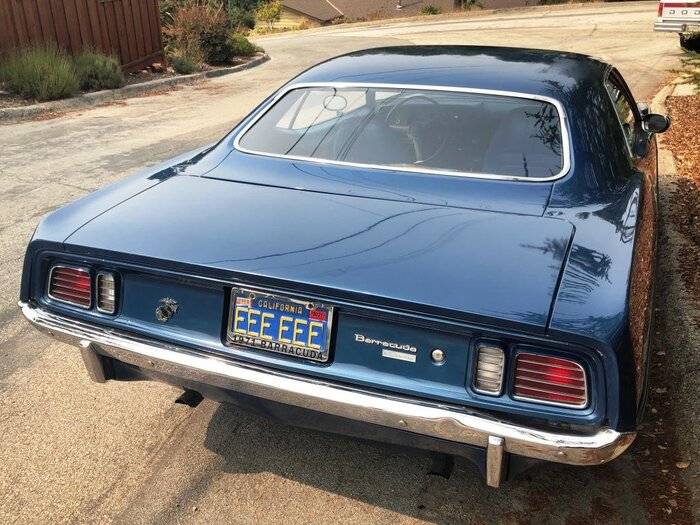 Pics:
Modern Cuda 71 Barracuda For Trade - Google Drive
Consider on offer for the next few years.
For Trade #1: 2014 Dodge Challenger R/T Factory Shaker / Sunroof - Mr. Norm Modern 'Cuda
Before Dodge began their roll with the Scat Pack, Hellcat, AWD, Demon, Redeye, Helephant, at the tail end of the 08-14 body style, there was a 6-month period where Dodge offered a factory shaker before the 2015 changes in interior and exterior styling. This is one of those cars. Hearkening back to the classic muscle car days, the (2014 and older style) interior is open and spacious, as compared to the close-in, in-your-face airplane cockpit style interior of the 2015+ models.
This is a 2014 R/T Factory Shaker, Factory Power Sunroof, 5.7L Hemi, 6-Spd Manual Transmission, with the Super Track Pak, Performance Steering (with the Leather Wrapped Flat Bottom Performance Steering Wheel), Black on Dark Slate Grey Luxurious Leather (with seat heaters), the best factory rims, Electronics Convenience Group, Uconnect 430 with the large touch screen display in dash with Sirius & Nav, less the larger engine as Core models (would become Scat Packs) did not offer Factory Shakers in 2014, back up beeper.
They made just over 100 cars with this build (Sunroof; see config pic), in black or white. This car is incredible! It drives like a bat out of hell, and looks the same. It sips the gas, and when you stomp the pedal it takes off like a low flying rocket! I have kept it in the garage since I bought it from the dealership and purchased the Mr. Norm GSS Cuda kit for Mr. Norm's trip to Ca for the Peggy Sue car show in Santa Rosa, where he signed the car in 3 places, under the hood, the dash, and the tail light panel. This car was then the cover and featured article in Mr. Norm's Pentastar Passion digital magazine.
The Mr. Norm package (this car happens to be the first factory shaker Mr. Norm's GSS Cuda). The package includes the 71 'Cuda style grill, 70 'Cuda style tail light panel, Pistol Grip Shifter (in deeply attractive Burl wood), (Factory stripe delete) + Mr. Norms Shadow Strobe Stripe down the sides black on black, Shaker dash plaque in addition to the Cuda dash plaque, Cuda package standard equipment. We did pull the tail light panel and drastically reinforce the substructure using 18 2" 'L' brackets. It is substantially more robust than the original application. Car comes with the wraparound section of plastic behind the tail light panel.
It is a pristine off the lot 2014 car practically undriven with 1,508 miles. I had two years of dealership oil changes all performed, I have performed the recalls for the alternator, and for the air bag. There are recalls for Evap Canister and Power train Control Module software since the car went on non-op status. It has been garage kept its entire life, and on a trickle charger, driven sparingly enough to get my juices flowing and started periodically.
I have more documentation than is posted here like a certificate of authenticity in the Mr. Norm registry for the car. I did remove the windshield banner. I did my best to create the kind of car people will enjoy viewing at car shows, like people did with original muscle cars.
I am proposing a trade, should anyone have what I'm looking for, and prefer a tip top comfortable ***-hauling, smooth running, air conditioned, reliable, practically brand new car instead of constant project original in your garage, waiting for a few more projects to be road ready. Mr. Norm signed a Cuda toolbox which goes with the car.
FOR TRADE #2:
1971 Barracuda B7 Blue Exterior (with Chrome and Black trim), B5 Blue Interior, refreshed 318, column shift auto, bench seat car. A/C installed at dealership on purchase. A04 Basic Group Power Steering, Variable Wipers which are nice. #'s matching 318 & transmission. I have the purchase order, window sticker, build sheet, fender tag and the paperwork for dealership installed A/C (not running, needs pump).
What I've done, in order by job: the back window leaked like a sieve. I had my body guy weld in new metal framework that the back glass sits in, because it was rusted out under the trim. That is now weatherproof, he blended the paint around the repair, it is visible if you look for it. I replaced the engine bearings, timing set, oil pump, rebuilt the carburetor and had that tested by a carb shop, they said good to go I just had one linkage on backwards and they fixed it. got it running and it runs smooth and it fires right up every time, and it stays running, purrs like a sewing machine with Cherry Bomb exhaust. I pulled the tranny and replaced the front pump seal. I installed new transmission lines. Exhaustively built suspension including graphite impregnated polyurethane bushings and lower control arm bushings, rear leaf bushings, new Swayaway 1.09" torsion bars, rebuilt steering box, New (all) ball joints and tire rod ends, pitman and idler arms. I dropped the car 2", way too low (It looked like a Miata), so I dropped it only one inch, and now it sits right. Had it professionally performance suspension tuned and aligned on brand new Cooper Cobra radials on 15" Torquethrusts that look great.
It could be daily driver status but I drive a commuter to save money. The paint is driver status, 20'. It has a softball sized rust hole below and behind passenger panel corner by tire, and gaudy touch up paint covering anti rust treatment (acid etch then rust inhibitive primer "EZ Rust" covered with B7 touch up. It is good for driving anywhere and not caring (including the black rubber strip down the side protecting against any other cars' doors, I like it, I know you don't). The paint issues look worse in person because the gloss underwhelms them in pictures. It eventually needs a paint job "But the hard stuff is Already Done!", but for now rust is treated, chips are painted, and metal is protected.
For what the car is, attractively optioned. It has upgraded huge exhaust. The car came with a primered twin scoop power bulge hood and spare deck lid for adding a Go-Wing (don't have the wing), and those go with the car, not interested in parting.
Next projects are power disc brake conversion, passenger side window needs to be fastened. There is a softball sized hole in the panel passenger side below and behind the passenger door. The interior is worn, the passenger door pas needs sanded/painted or new. But the car fires right up every time and has been dependable and fun to drive. Newest gremlins are that I have no back up lights after reinstalling the tranny, and now when the lights or turn signal are on, the radio cuts out for a time. Grounds cleaned not tested. Brakes, Paint, A/C so check in where I'm at on those. The car had previously taken what appear to be 5mph hits, the panels are not laser, but they function. Many panels have dings, both valences do.
WTB
(Not straight trade):
Engine: 383? Perfect. Motorhome 440? Fine. Don't need #'s matching engine/tranny, just correct options per fender tag.
Decent body shape/paint, unless options really makes up
At least fender tag to show factory options
1971 (only) 'Cuda
:
Must haves:
Factory Pistol Grip 4-Speed D-21
Factory Shaker N-96
No: Purple, Pink, Red, Burnt Orange.
LIKES: any Track Pack, A/C, Wood Grain, Rally dash, tachs, hood turn signals, luggage rack, louvers are great.
1970 (only) Roadrunner maybe GTX
:
Must Haves:
Factory Pistol Grip 4-speed D-21
Factory Air Grabber N-96
No: Purple, Pink, Red, Burnt Orange.
LIKES: any Track Pack, Bench seat, A/C, Wood Grain, Rally dash, tachs, hood mounted turn signals, luggage rack, louvers are great.
MY OLD ROADRUNNER VIN: RM23N0E116315 somewhere in CA or AZ? (Tor Red 383, 4-spd pistol grip, bench seat, black interior, tic toc tach, 150 mph speedo, hood turn signals.
One P. Heubxxx back east has(d) a 70 EV2 brown interior RR.. I might have to rejoin facebook to contact him again.. If you saw me posting there, I am OFF FB.
Might Consider
1970 Ford Torino GT 4-speed, bench seat; 70-73 Firebird Formula 4-speed.
Cross-posted with ForEBodiesOnly, ForBBodiesOnly, Cuda-Challenger.
Am I off my rocker? Yes. Obviously looking for a driven (into the garage and left there) car I can tackle working on, not a fresh rotisserie resto. My buddy just bought my neighbor's 70 Charger R/T. his wife said he described what he wanted to her, and then the car presented itself through my introduction. Meanwhile, I decided I'm wrenching on these cars, it's time to get serious and go after the exact cars I want so I can spend my energy there. So maybe I'm looking for the same.
Reasons for selling are to get the cars I want to restore by hobby, and I kind of built a trailer queen with the new one, if I don't sell the black car within 2 years, I'll just keep it and drive it, it's super nice. also I have 3 of the 10 cars at the family compound. Since prices are required, we'll go with $45k for the new one and $38k for the old one, "I know what I have". Both located near Santa Cruz, CA. No expectations, no hurry. Just in case anyone likes what they see and we can both get where we want to go. Someone has a car in a garage that doesn't move and has a half a dozen reasons why. I am the guy that will take on those problems one by one and get that car back into good operating condition to be seen in the sun again. I have a now-retired master mechanic 2nd dad is why, I can tackle any mechanical issue with Cavalry for backup.