Local time

6:14 AM
Joined

Oct 15, 2010
Messages

838
Reaction score

1,493
Location
Weight, Ballast, Pounds, Mass, Lard, Fat, Pork, any which way you cut it and name it, carrying the heavy stuff can and will hinder a cars performance and longevity, especially off the straight line type.
Depending on the year and model, there are so many places on a car to remove weight, but it is most important to remember that weight removal should be strategic to your needs and most importantly, intelligently done to keep the structural integrity of the car sound.
Every ounce counts, but you can count on this, you do it wrong or too much in the right places and you'll end up with a stale pretzel with no seasoning on top.
I have seen guys cut and hole saw cars in the wrong places such as rear quarters, roof lines, A,B and C posts, rocker panels, firewalls, fender aprons and even chassis rails and after one quarter mile pass later, there's nothing left but a car with two diagonal wheels dangling in the air while parked.
In essence, weight is not just about removing and replacing it with lighter parts, sometimes just placing it in other sections within the chassis can bring surprising results. Taking a 4000 lb car and just correctly repositioning its own amount of weight without any emphasis of losing weight can sometimes make that car run quicker as a result of better weight transfer and traction.
For those that are bummed about their own personal body mass, there is hope because there can be some advantages to that believe it or not. But again, done smart and proper is a must. (more on that later)
To keep this simple and pragmatic, There are three regions where weight (sprung or unsprung) can be managed.
Starting with the front of the car. This is (region #1) because this is the location of the first mass that the car deals with when accelerating and also where the source of power is nestled.
Mind you, the tires out back have to deal with the mass out front of them and somehow swing it back over themselves just to be able to plant, so what ever can be responsibly refigured out front will only help those two lonely busy bee tires outback.
The mid section from the A-pillar/firewall to the B-pillar which includes the doors is (region #2). A whole lot of energy is being funneled through this area via the transmission and driveshaft. It is also important because at the very tail end of this region just passed the door jams is the very nose tip where the center of gravity zone can be exploited. This sweet spot is where the nose attachments of four links, ladder bars, slapper bars, calvert bars and spring eyes make their case.
At the start of the rear quarters to the rear bumper is (region #3). This desert area is most important because this is where weight is either left alone or as I like to call it, spread out like a land fill. Note that some of the F.A.S.T Class cars running mid deep into the 9's on stock Polyglass tires have weight bars or lead shot boxes distributed at different points within this area.
Going back to region #1, the hood is the obvious first target.
Most cars should lose it (like the one pictured below LOL) It's the first thing we see since it sits high on the body and takes up a lot of real estate on the very front of the car. It is arguably the most changed body panel when it comes to weight removal. There are of course a few variations of ready made catalogued hoods out there made of fiberglass, carbon fiber, but hoods could be made weightless by utilizing exotic alloy materials or by chemically milling the original hood.
This thread should bring some rather obvious ideas and some really wild left field ones as well, so let's have some chat about trimming the fat.
The oldest teenager Gent that I know and looking on to the left is no other than "Top Boy" He's no joke when applying the trickiest tricks to 727's since when they were cast iron cases.. His magic resides within the trans case of this car.
I'll leave y'all with a bomb shell though: Sometimes a stock weight steel hood can make more power just as it is. I'll explain on my next role through.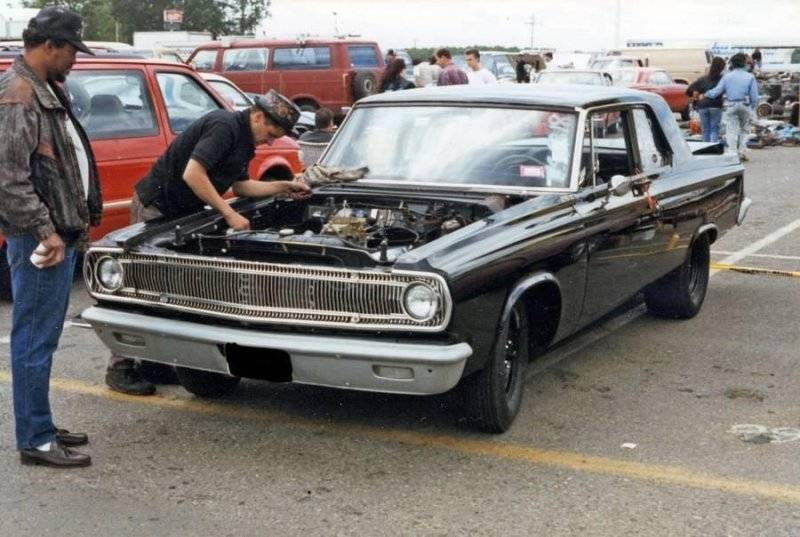 Last edited: