Henchman #2
Staff member
FBBO Gold Member
Local time

2:48 AM
Joined

Aug 11, 2010
Messages

10,338
Reaction score

18,348
Location
I ordered one of these and it worked out well. I know it's not original and you all know, but how many people can tell this is a Wal Mart battery? I'm not going to tell. Here's a link. They come from Belgium so they take a while to get here. Be patient. They have a good selection of push in and glue on caps in 3 colors and different styles. Check your battery first to make sure they will work.
1/22 Update: there is a embossed "Mopar" side plate available.
https://www.ebay.com/sch/m.html?_ss...12.TRC2.A0.H0.Xmopar.TRS0&_nkw=mopar&_sacat=0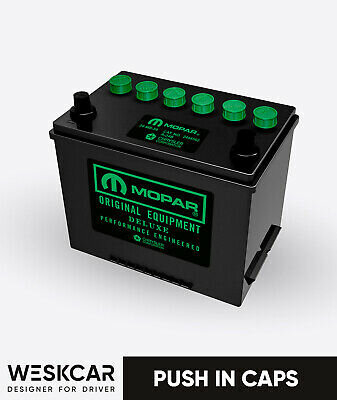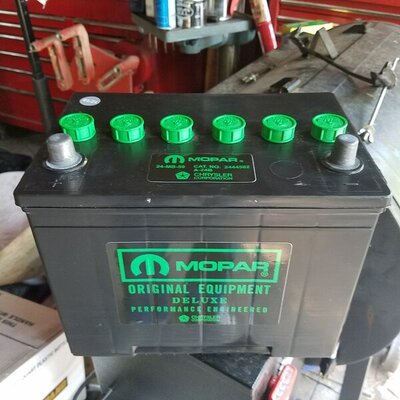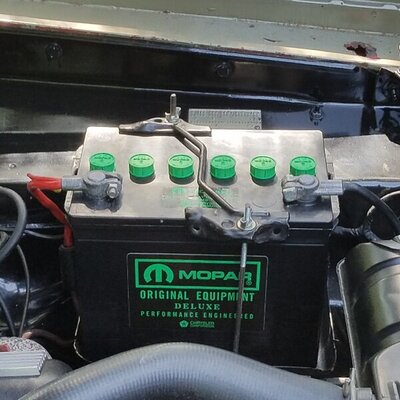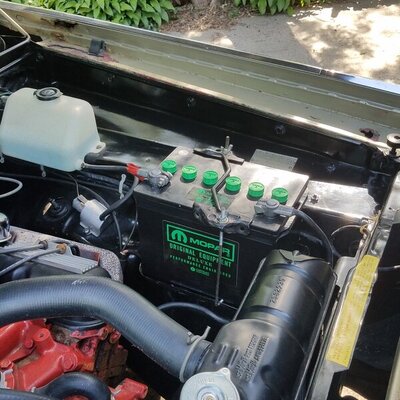 Here is a chart for what you need.
Green Caps:
1966-1969 with 225, 273, and 318 engines and 48 amp alternator
1968-1969 with 340 engines and 48 amp alternator
1970-1973 with 225, 318, and 340 engines and 46 amp alternator
1973 with 400 engines and 59 amp alternator
1974 with 225 and 318 engines and 48 amp alternator
Yellow Caps:
1966 with 361 engines and 59 amp alternator
1967-1971 with 383 engines and 59 amp alternator
1970 with 318 and 340 engines and 59 amp alternator
1971 with 360 engines and 59 amp alternator
1972 with 400 engines and 59 amp alternator
Red Caps:
1966 with 383, 440 and 426 Hemi engines and 70 amp alternator
1966-1972 Police Units with 70 amp alternator
1967-1971 with 440 and 426 Hemi engines and 70 amp alternator
1972 with 440 engine and 70 amp alternator
1973 with 440 engine and 70 amp alternator
1974 with 400 or 440 engine and 70 amp alternator
Last edited: