Local time

10:01 AM
Joined

Apr 17, 2014
Messages

2,097
Reaction score

4,272
Location
My engine builder ran my new motor on his Dyno last nite.
I attached the Dyno Pull Chart to this Thread.
Engine Specs to compare your motor to if you havent had your motor on the Dyno:
505" 4.150 Stroke/4.350 Bore
Pistons .010 in the hole/.039 gaskets/73cc heads makes .049 Quench and 11.9-1 C.R.
850CFM Mighty Demon
INDY Dual Plane Intake (NON-Max wedge size)
INDY SEZ heads (NON-Max wedge size)
Hooker Super Comp Headers 1 7/8 tubes/3" collectors
Solid Flat Tappet Engle Cam w/1.6 rockers makes .628 Int Lift, .649 Exh Lift, Duration-Int 272, Exh 282, Lobe Center 108
34 degree total Timing/MSD Dist/6AL Box
91 Octane Pump Gas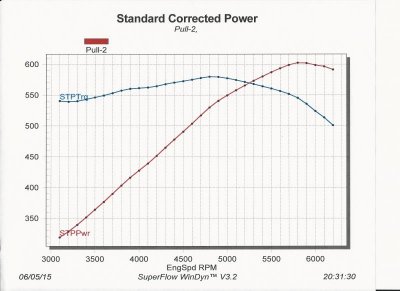 599HP @5700RPM
602HP @5800RPM
601HP @5900RPM
600HP @6000RPM
540LBS Torque @3100RPM
560LBS Torque @4000RPM
580LBS Torque @4800RPM
570LBS Torque @5000RPM
My Engine Builder wanted to put together a Motor with a really FLAT Torque Curve that would launch my 3600lb Coronet hard...and he did...540LBS of Torque at only 3100RPM
Shift Point at 6100 was the goal and he made that goal...600HP at 6000RPM
Did it all with 91 Octane Pump Gas at 34 degree timing.
Putting Motor in car this coming weekend.
Hopefully it will go 10.50-10.70 at around 124 to 128mph.
Lenny at Ultimate Converter in North Carolina just got my Torque readings off the Dyno Chart and he is matching my Converter to perform exactly to my Torque Readings....
Will report my ET's, etc after my next race is the Mega-Mopar Race at Famoso Raceway (Bakersfield, CA) on June 27/28th