Formerly hsorman
FBBO Gold Member
Local time

7:29 AM
Joined

Aug 8, 2011
Messages

5,951
Reaction score

11,175
Location
Hawk, did you take any pictures of the piston skirts before you had them coated? I'm dying to know how those short skirts held up.
I did...
...but then I had some issue with my phone, and my pictures got all messed up and I lost some. I know I took pictures of the pistons after I cleaned them. I just looked and could not find the picture I took of them (I will continue to look and will post them if I find it).
If you look at some of the pictures I just posted yesterday, you will see some light vertical scoring in the bores of the block. The piston skirts had the same kind of wear pattern on them, especially on the bottom of the skirts where most of the force is applied. This is the primary reason we decided to coat them to help with the wear.
For others that may be wondering what this conversation is about:
As the stroke in an engine gets longer, the rod length has to get longer, since the rod vs. stroke length really should be 1.5:1 or greater. But the bore is only so long, especially in a short deck "B" block like a 383 and 400. With a longer rod, the only thing you can do is shorten the piston. This means that often the pin even has to move up into the ring area. Here are two random examples off the internet.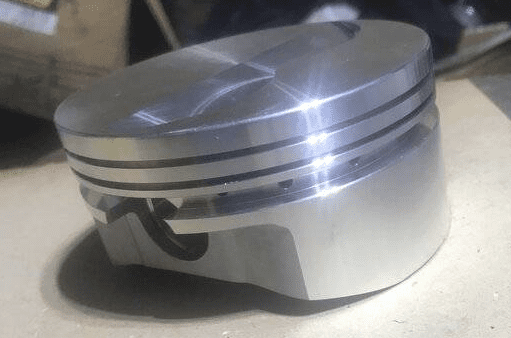 Compare this length and pin placement to a more regular piston.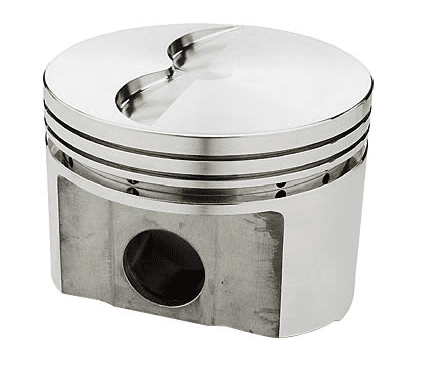 A piston's length helps to keep it from twisting sideways in the bore. A longer stroke also puts more side force on the short pistons near the bottom of the bore. This creates additional wear and is a one of the cons of a big stroker engine. So in a stroker engine, the piston to (bore) wall clearances become more critical.
Checking this, and making sure everything was as dialed in as possible, is one of my primary reasons for pulling this well running engine apart. I wanted to make sure all this stuff was ideal.