Formerly hsorman
FBBO Gold Member
Local time

9:18 AM
Joined

Aug 8, 2011
Messages

6,152
Reaction score

12,186
Location
Well, I got my reciprocating assembly balanced today.
For those who may not be familiar with how engines are balanced:
First you make sure all components like pistons, rods, rings, etc. are weighed and are all the same (e.g. all pistons the same weight, all rods the same weight, etc.). These are then recorded - see the card that I pictured in post #54 above. Then a bobweight is made up. This is basically a bunch of washers and a metal clamp that clamps on the crank rod journals to mimic the piston and rod assemblies. In the picture below you can see the bobweights on the crank and the balancing setup. It is basically a sensitive machine mounted on a Bridgeport.
Then the machine rotates the whole assembly to mimic the engine running and it senses vibration, how much it is and where (what angle) it is.
This assembly was run before, but I made a few changes to some pistons and rods. I expected the numbers to be close to balanced. Here were the results of my initial run: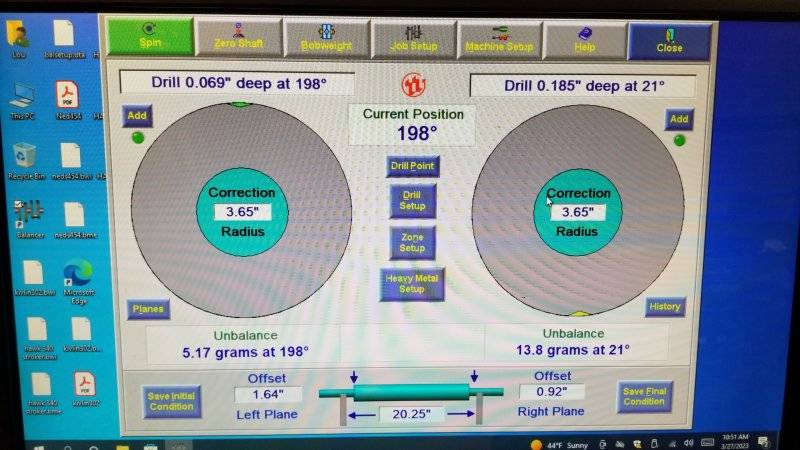 You can see that I was 5.17 grams off on the left side and 13.8 grams off on the right. A good street balance is anything less than 7 grams, but an all out race engine ideally should be less than 2 grams. Notice also the machine tells me where to take weight off. For example, on the left side I need to drill at 198*.
Taking weight off is pretty simple. You use the Bridgeport with a drill bit, at the angle indicated my the balancing machine. Drill the counterweight the appropriate amount and this brings the assembly into balance.
Now, it takes some finesse and there is a little bit of Voodoo that goes on, because imbalance can move from side to side. But after a few iterations, you should be able to get the assembly balanced as needed. In my case, I drilled both the left and right side twice to sneak up on the result. Here is what I ended up with: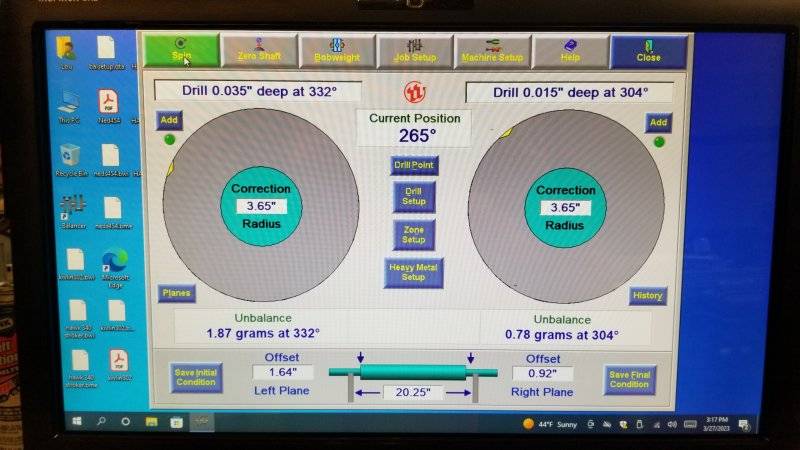 Part of me would love to get the left side to under a gram, but it really isn't worth it - this is an excellent result. Plus, if you take too much out you can screw things up. It's hard to glue the pieces back if you cut too much!
Bottom line is my assembly is now balanced and I can now clean the block, do some final clearance measurements and start assembly!