Local time

6:31 PM
Joined

Jun 3, 2021
Messages

39
Reaction score

36
Location
I'm afraid around every turn theres more rust. So far thats been mostly untrue, except a few of the "typical" spots. At least I gather they're typical from lurking around here. So far I've found some quarter rust, need to rebuild a corner including the trunk gutter. But some things like the rockers appear to be rick solid as are the floors. Meanwhile I need to do some cowl surgery! Going to pull the ending and start teardown real soon - build thread to follow. Gotta finish my up my shop build first so I can almost be organized.
Most of what I need I've ordered patches for or found someone to help me get, but now I have a question about a new spot. After walking around with a screw driver and jamming it in spots that looked fun, I've found a new spot right in front of the passenger door. Looking for a little help on how to attack this. Disclaimer, Never done body work or rust repair before, learning to weld real soon. Looking for some thoughts and advice. Pictures included!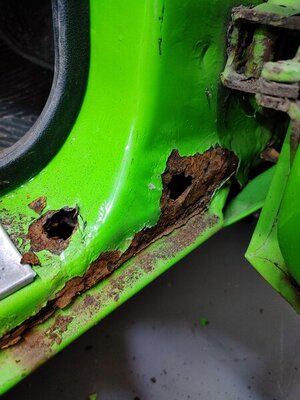 Been stabbing away!
Did this use to fill this with lead?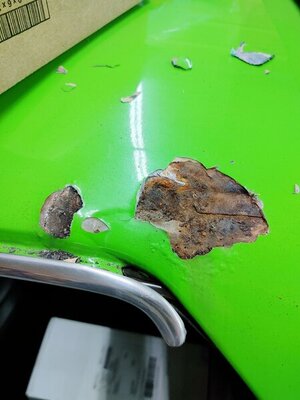 Cowl needs a little help, but parts are coming, thanks barnfind