Local time

7:47 PM
Joined

May 28, 2013
Messages

4,587
Reaction score

6,919
Location
I'm not about religion but I am about family. We have had an annual tradition in my family forever. We had it at my house rather than than the ranch this year so I was responsible for most of it. Okay, I'm a single guy living in a big house. After a divorce (not my idea) I decided buying out my wife's half and owning a big house in Colorado is the best investment I could make. It's just that cleaning it for a party is a big job. So I got it done pretty well and we had the celebration here. I cooked the ham and other things while my guests brought side dishes. The weather was BEAUTIFUL. 60 degrees and sunny. We socialized on the back deck for a couple of hours then had the big meal. Everything went as planned.
Then it was egg decorating time. I had 36 hard-boiled eggs and we went to color them. No grandkids yet so it was all adults and young adults. Here are some of my eggs. That took quite a while. then it was the annual Easter Egg hunt. I hid them so I couldn't play. Some had jelly beans some had Reeese Pieces. Some had $1 bills and some had $5's. There were 66 hidden all over the backyard. It worked out, Everyone got approximately the same amount of plastic eggs and money. Then everybody pitched in to clean up from lunch.
One cool thing is my son brought up my car for me from his acreage where we were storing it. You may remember I bought this 1970 Coronet 500 in January of 2022. I'm going to make a big post with pictures about it later. All in all, it couldn't have been a better Easter.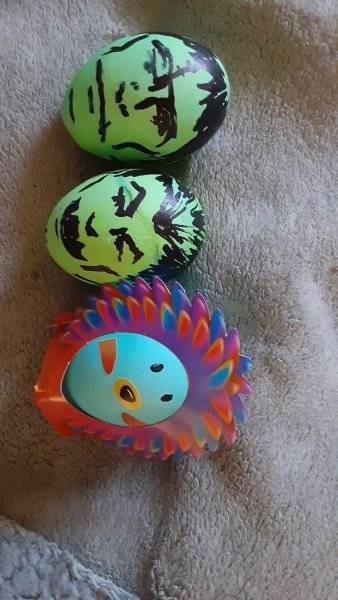 Last edited: