Life is full of turns. Build your car to handle.
FBBO Gold Member
Local time

5:04 PM
Joined

Apr 13, 2012
Messages

28,827
Reaction score

91,922
Location
I'm still waiting for the pedal-to-the-metal, mind blowing, change of underwear, test drive report.
I cannot get past half throttle in first. The tires just spin. In second, the same gets me walking sideways if the road is crowned. In third, the tires are holding just fine. I think the power will be adequate. It idles smoother than I recall from when I used this cam before.
I haven't hammered on it a whole bunch. The brakes are not fully bled out. I didn't want to get in a spot where I couldn't get the car back down to a safe speed without panic. There are a few excuses for not bleeding the brakes....Mary has been busy and stressed with work and I didn't want to burden her. Not many car guys are nearby either. I decided to get one of those "One Man Bleeder" kits from Motive. I have a story on that one too....
Saturday I decided to drive to the Summit Racing store in Reno and got turned around by the Cops because of road conditions. SNOW. It wasn't bad yet but supposedly was worse up ahead. Sunday I tried again and was turned around again. I'm not buying chains for this truck: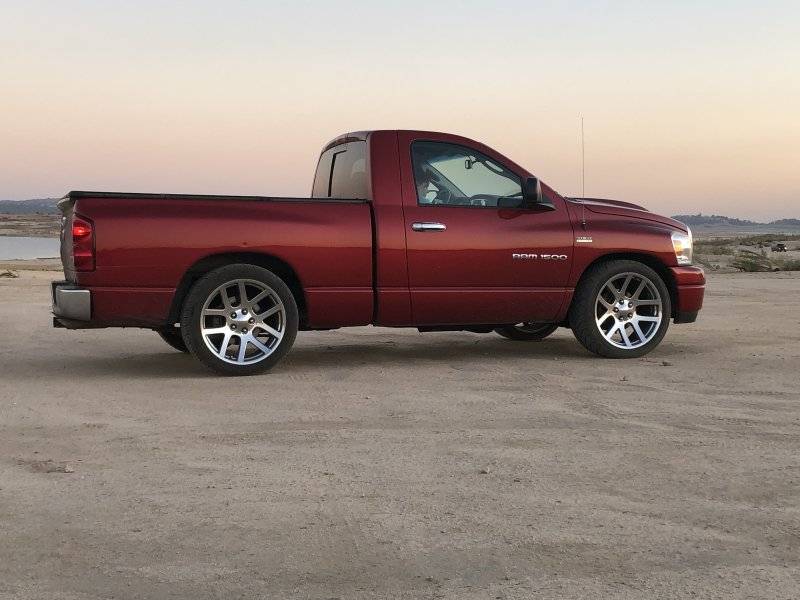 I'd worry that the chains would come loose and shred the bedside.
Sunday I ordered the brake bleeder and a few other things. They are due in today. I'll report on that as it develops.
I did adjust the float level of the carburetor. The rear bowl fuel level was to or above the top of the sight glass so that is likely the reason for the stalling during braking and on steep downhill slopes.
Dadsbee is sending me a diode that will eliminate the bouncy tachometer needle. The FBO box I installed led to an erratic tach needle and the "fix" is supposed to be to solder in the diode on the tach wire.
The roads have been wet lately from much needed rain and I try to avoid driving in the rain. I'm not a prima donna....If I'm out and it starts raining, I don't hide under an overpass but I don't look at this car like I would a daily driver. I need to replace the windshield wiper pivot seals. I bought two sets awhile back from Detroit Muscle Technologies. I already put one set in Jigsaw. This car is next. I was caught in a downpour in April while driving to Van Nuys. The windshield seems to seal well but I did get streams of water in under the dash. I suspect the pivot seals since they are original!
In short, the power feels good. The brakes do too but should inspire more confidence once they are fully bled out. I like brakes to react quickly without having to press the pedal halfway to the floor.
Does anyone remember the sway bar end links that I modified back in page 12, post # 226 ?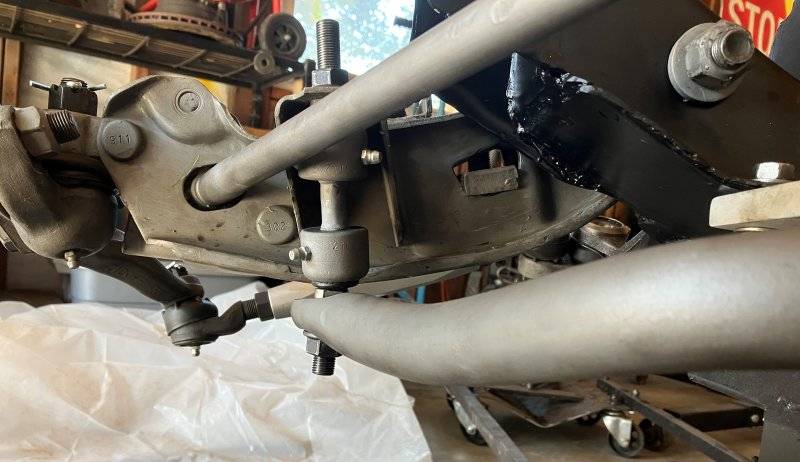 They work as intended and have less compliance than the urethane bushings did. There is no noise coming from them as far as I can tell. There is only one small drawback. This sway bar is a modified unit from a 1973-87 Chevy 2wd One ton truck. The holes where the end links attach are slightly closer together than the stock sway bar. This puts the end links in a position that isn't a true "plumb" position, they are not straight up and down. The control arms move in an arc and as they do, the end links tilt in and out. Rubber bushings squish a lot and would tolerate this just fine. Urethane would as well. These links are solid with small ball joints at the ends:
I didn't want to push the car to the point where it would snap the end links so I bought a new sway bar, due in later today.
I have the bad habit of getting stuff almost entirely finished and THEN getting distracted by something else. I am trying to change that. The remaining small details of this project can be handled in a day or so.